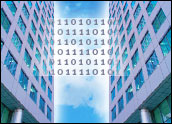 A spate of mergers and good consumer demographics have the wireless industry poised for a strong 2005, with brokerage house Merrill Lynch the latest to weigh in with a more bullish outlook on the sector.
From improved outlooks for subscriber growth to next-generation broadband and emerging markets such as mobile commerce and streaming media, the wireless industry appears set to emerge as one to watch in the New Year, analysts say.
Merrill Lynch is predicting that not only will revenue continue to grow for the sector, but subscriber bases will continue to expand as well. Merrill upgraded almost all of the wireless firms it covers, but said it particularly liked the prospects of Sprint and Alltel
More Mobile Phones
"For 2005, we are raising our estimate for U.S. wireless industry net additions from 16 million to 17 million," Merrill said in a research note. That will equate to 10 percent growth for 2005 on the heels of 12 percent growth in 2004.
By the end of 2005, the firm said, 65 percent of U.S. consumers will have wireless phones, up from 60 percent penetration at the end of 2004.
The Wall Street banking house became just the latest in a chorus of analyst voices calling for a strong year for wireless companies, with services multiplying and businesses stabilizing thanks to mergers.
Consumers might even see some benefits, as some analysts are predicting lower prices as a result of stronger players created by the mergers of AT&T Wireless with Cingular and Sprint with Nextel.
Analyst firm Gartner predicts that the overall communications services sector will see 6 percent growth this year, to US$347 billion, even though traditional wire-line voice revenue is expected to decline.
Revenue To Soar
IDC also has predicted that revenue in the U.S. from next-generation wireless services such as voice-mail, Web surfing and video streaming will jump 28 percent to $83 million this year.
While the biggest wireless companies are best poised to take advantage of those trends, they will undoubtedly face competition as others recognize the marketplace opportunities, In-Stat/MDR analyst Michelle Abraham said.
Word that cable and entertainment giant Time Warner is already looking at offering wireless services is one example of third parties that might try to grab a piece of the emerging business segments.
"As content and commerce providers see the opportunities, they will position themselves to be able to get their share," Abraham said. That is likely to yield a host of unique partnerships between content owners, wireless providers and even third party content aggregators.
No Cure for Merger Fever
Though some consumer groups have been wary of the consolidation trend in the mobile field, some analysts say it might help accelerate technological advances by giving companies the means to deploy high-speed networks and roll out other services faster than they would have been able to on their own.
In fact, Merrill noted that one of the reasons it is raising its 2005 outlook for wireless is the strong performance of AT&T Wireless/Cingular post merger. The company has not seen existing customers flee at nearly the rate that had been predicted.
Meanwhile, the changes in the industry are likely to spark others to take up new positions as well.
Some of that reaction might already be taking place. The parent company of T-Mobile, now the smallest national wireless carrier in the U.S. in terms of subscribers, recently said it is exploring various options for competing in the changed marketplace.
More evidence that 2005 might go down as the year of wireless is available at the Consumer Electronics Show in New York City, which opens this week with a heavy emphasis on wireless gadgets and connectivity.
"The push is on to bring the same level of productivity and connectivity to wireless users that office users have," Gartner wireless analyst Tole Hart said. "That gives you an idea of where this heads, to where people want instant messaging and other productivity tools on their mobile phones. It might not happen this year, but a lot of progress in that direction will be made."