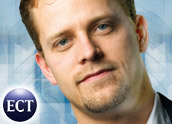 Web analytics isn't what it used to be. A new breed of tools and technologies has led to a rebirth of analytical hopefuls, and well-known brands are hopping on board.
Omniture is the largest stand-alone Web analytics application service provider. The company grew more than 150 percent in 2004, with seven consecutive quarters of profitability and clients like eBay, AOL and Wal-Mart, among others.
The Orem, Utah-based company recently launched the industry's first Web analytics best practices group to help customers realize the full potential for Web analytics implementations through customized training, hands-on support and innovative application of best practices and principles. Omniture's Best Practices Group offers services and methodologies designed to address and drive online marketing ROI, ranging from strategic planning and rapid implementations, to enterprise marketing optimization.
The E-Commerce Times caught up with Omniture co-founder and CEO Josh James to talk about how much Web analytics has changed since he entered the market in 1996 and how those changes can benefit businesses that implement the technology.
ECT: In the early days of e-commerce, there was a push by Web analytics companies to cash in on the promise, but many of those companies seemed to fade away. How has the technology evolved in the past five years? Is it more robust? More reliable? More comprehensive?
James: Web analytics has evolved dramatically in the past five years, not only as a technology but also as an industry. The sophisticated "page tag" approach we've helped pioneer is fast becoming the de facto standard, as companies' large and small move away from less accurate and less reliable server log file solutions. We have also seen the rapid adoption of hosted services, given the lower total cost of ownership, time to market advantage, and proven ROI.
ECT: What are the latest and greatest capabilities of these tools?
James: Web analytics tools have traditionally focused on departmental challenges — like e-commerce measurement or online marketing measurement. While these early adopters are always asking for more, we are now seeing strong interest in Web analytics throughout organizations, including the boardroom. Omniture has stepped up to meet this challenge with our latest product release. SiteCatalyst11 provides substantially deeper analytics around e-commerce and marketing measurement, but also a wide array of executive dashboarding capabilities and data visualization features that are unparalleled in the market today.
ECT: How can companies practically use this software to impact their business?
James: Web analytics can be used to measure most anything online — and many things offline as well. Practically speaking, companies need only agree on what key processes need measurement and then track that with their Web analytics solution. Once that's done, it's only a matter of experimenting with new ideas to improve that process. In this sense, impacting your business with Web analytics is akin to other business optimization philosophies like Six Sigma.
ECT: What should companies look for in a Web analytics vendor?
James: The market remains highly fragmented with many unprofitable vendors. As such, when evaluating vendors, it is critical to consider not only product capabilities, but also financial viability and retention of marquee customers. Finally, it is important to consider the vendor's ability to support customers with post-sale account management, training and best-practices guidance.
ECT: What is the business case for using Web analytics today? What kind of ROI can a company expect to attain with this technology?
James: We have customers that have realized over 20 times ROI from using SiteCatalyst. We also have customers that have saved millions of dollars by outsourcing to Omniture. With success like this, the business case is well established and compelling.
ECT: How long does it take to get a return on that investment?
James: Web analytics can pay for itself with a single business improvement — so the real question is how quickly can companies make data-driven decisions? This willingness to change will ultimately dictate time to ROI.
ECT: What are some best practices for using Web analytics?
James: The key to Web analytics success lies in constantly experimenting with new ideas to optimize the customer experience. In doing so, companies will maximize their success and ROI.
ECT: What types of businesses are making the most ofimplementing Web analytics?
James: While we've certainly seen strong adoption amongst e-tailers and online marketers, we have many successful customers focused on lead generation, customer service and support, multi-channel marketing, and content providers and subscriptions.
ECT: Do certain industries see greater benefits from this technology than others?
James: I believe success with Web analytics is actually a function of the customer, not the industry. The more a company is willing to test new ideas and make data-driven decisions, the more benefit they will receive from Web analytics — period.
ECT: What sizes of companies are making the most of this technology? Are large e-tailers benefiting more than online mom-and-pop shops, for example?
James: With increased size, the relative benefit doesn't change, just the magnitude. Obviously a 20 percent improvement in conversion means more actual dollars to a large e-tailer than to a mom-and-pop shop, but that doesn't mean these folks aren't benefiting just as much. In fact, some of the smaller companies are some of the most successful with Web analytics because they can experiment with new ideas much more rapidly than larger corporations.
ECT: What are the top metrics that companies should be paying attention to in today's e-commerce environment?
James: It is critical that companies focus on those key performance indicators that best represent success against their strategic objectives. In other words, measure what matters. For mainstream e-commerce players, this includes revenue per visit, conversion, and profit per customer.
ECT: What are some of the perhaps more surprising or lesser thought of insights companies can get from Web analytics?
James: We have customers that use Web analytics to track press releases, tradeshows, job postings, digital music, cell phone usage and even free CDs that are sent via postal mail. This insight allows them to optimize their business for success. I find these types of applications fascinating because some folks still think of Web analytics as measuring hits on a Web site. There's simply so much more to it than that.
ECT: I've noticed some new players entering the market. How competitive is the Web analytics market today? Is there room for niche competitors? Or will established players win out?
James: The benefit that the more established players bring to customers is their depth of experience, which translates into features and functionality that meet the real world needs of Web marketers. As more companies become more sophisticated in their use of Web analytics, the niche players will find it more difficult to compete.
ECT: What are the key differences in today's market that will allow Web analytics vendors to succeed?
James: More than simply a tool for the marketing department, Web analytics enables the entire company — from marketing and merchandising to finance, product development and the CxO level — to communicate, manage and measure success according to key performance indicators. The market need is there and growing, and the Web analytics companies that will succeed going forward will be the ones that excel in getting the right data into the right hands in an actionable format practice consulting support.
ECT: What are the biggest challenges facing players in the Web analytics market today?
James: Even now, as more companies are using Web analytics to deliver mission-critical data throughout their organization, many companies underutilize or even fail at their site analytics campaign because their vendor doesn't work with them at the beginning of the project to determine site and business objectives and implement best practices (such as establishing an internal executive advocate to drive the use within the organization), and provide them with ongoing account management to help them evolve their Web analytics and online marketing strategies as the needs of the company evolve. Almost any vendor can gather data for a company. But the vendors that will be left standing will be the ones that deliver data in a usable, relevant form factor and can provide Web analytics expertise that will finally enable companies to become more sophisticated and successful in their utilization of online marketing data.