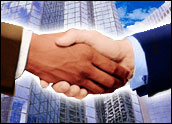 Entertainment and media giant Time Warner is reportedly in talks with Sprint on a deal that would allow it to add cell phone service to the growing menu of offerings it dangles before its cable customers.
The potential deal, word of which was first reported in the Wall Street Journal, would be significant because it would make Time Warner the first cable company to add wireless phone service. Its menu already includes cable television, high-speed Internet access and traditional phone service.
The move is seen as a way of answering competition from phone companies that are increasingly pushing high-speed Web access and television content as well as from satellite TV providers.
Mobile Content
It could also open up new opportunities for the media conglomerate — whose holdings include movie studies, the CNN television news network and Time Magazine, among others — to provide content to mobile phones, which analysts see as a rapidly emerging market opportunity in the mobile commerce space.
Time Warner and Sprint have both confirmed that discussions have been held. A Time Warner spokesman said the immediate discussions are most likely to result in a trial period during which the viability of the service could be tested before a longer-term deal is struck. The Wall Street Journal reported that the companies are eyeing St. Louis, Missouri, as a test site for the service.
The two companies are already partners: Time Warner sells digital local and long-distance calling over a voice over Internet protocol (VoIP) network provided by Sprint.
Defending Turf
The move toward mobile is seen as being at once aggressive and defensive. A consortium of cable companies that includes Time Warner is said to be mulling various options with respect to mobile communications and has reportedly hired an investment bank to help it plan its next move.
Deregulation that took place in the late 1990s has meant that cable companies now must compete against a slew of others — phone companies and satellite TV providers among them.
In-Stat/MDR analyst Michelle Abraham said telephone companies pose a long-term risk to cable giants like Time Warner as consumers slowly warm to their digital video offerings.
"It will be slow, not dramatic, but it's something cable companies don't want to see become a trend," Abraham said.
Consumers have shown a willingness to bundle their services, she noted, with companies like Verizon having success in selling phone, Internet and wireless service packages that give customers the convenience of a single bill.
Premium Blend
"People like having fewer providers, fewer bills," she added. When a customer buys a bundle of services, he or she is less likely to switch providers on a whim than if they only purchase a single menu offering, she said.
The wireless arena is also an attractive one because the opportunity to sell premium services in the form of content and mobile commerce abound. That's especially true for a company such as Time Warner, whose stable of media companies gives it a huge base of content to push to customers.
While that same idea lay behind Time Warner's much-ballyhooed but oft-derided merger with America Online, it might actually still make sense to attempt to translate it to the wireless space, according to Roger Entner, director of wireless mobile services at the Yankee Group.
"Wireless carriers are always looking to add premium content," he said. "Not only does it generate revenue, but it also helps a company distinguish itself in a way that doesn't mean lowering prices."
Other Moves
The battlefield is already forming. Verizon has a deal with DirecTV to provide that company's satellite content over digital lines, and SBC has joined forces with EchoStar, another dish television provider.
Also, T-Mobile's parent company, Deutsche Telekom, just this week acknowledged it would consider partnerships that would augment its services in the U.S.
Meanwhile, Sprint is one of the few telecommunications companies that hasn't yet forged a long-term partnership in the content delivery space. It seems satisfied to rent out its wireless network to content providers who can add value to it. For instance, it recently struck a deal with ESPN to launch a co-branded wireless phone service that includes streaming sports news and video.
Wireless carriers are eager to enter into such deals, particularly when they call for their partners to handle billing and subscription issues, which is reportedly the case in the Time Warner negotiations. Such back-office duties are a major cost to wireless carriers, Entner noted.