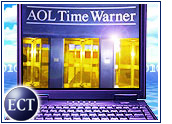 Two and a half years after America Online scored a coup emblematic of the rise of the Internet by acquiring media giant Time Warner, the board of directors has voted to drop AOL from its name and stock-trading ticker symbol.
While the move is a largely symbolic gesture, which the company and observers said does not indicate Time Warner is any closer to spinning off its online division, it does underscore the turnaround that has taken place since AOL paid US$112 billion for Time Warner in January 2001.
The company now will be known as Time Warner Inc., and sometime next month will resume trading under its original stock symbol of TWX.
"We believe that our new name better reflects the portfolio of our valuable businesses and ends any confusion between our corporate name and the America Online brand name for our investors, partners and the public," CEO Dick Parsons said.
Seeking Distance
Parsons said the name change underscores that all of the conglomerate's units, from its Warner Bros. and New Line movie studios to television networks CNN and HBO and publishing properties like Time and People, "are making important contributions to the whole company."
Of course, the move no doubt is also an effort to distance Time Warner from the problems that AOL has experienced since the merger. First, the America Online unit hit a financial brick wall, precipitated by a slumping online advertising market and more recently by losses in AOL's core dial-up market and numerous Internet-era investments that tanked. That trend culminated last year when the parent company was forced to book a record-smashing $98 billion loss for 2002.
Then, a series of investigations into AOL's accounting practices focusing on the peak years of the Internet boom introduced potential stigma to the company's financial picture.
New Beginning
Parsons acknowledged the change will help bring about a fresh start for the company. "I have been extremely gratified to find that our people are working with renewed energy, enthusiasm and collegiality," he said, saying the company remains focused on a strong 2004.
Analysts say it is still possible that Time Warner will spin off the America Online unit at some point. However, the resurgence of Internet companies and some success in using the Web as a tool to create buzz about Time Warner's other properties, particularly movies, may give the grand experiment more time to work.
"The Internet sector has rebounded nicely, and that's buying a lot of time and patience for AOL," UBS Warburg analyst Christopher Dixon told the E-Commerce Times. "The big-picture stuff about how well the Internet really complements the rest of the media biz is still up in the air for a lot of people, though."
Read All About It
The parent company also moved quickly to emphasize it will not short-shrift AOL in terms of marketing and promotion. For example, the online service plans to sponsor a free giveaway of the New York Post next Wednesday, a gimmick designed to promote a free Dave Matthews Band concert being held that night.
The event is a promotion for America Online version 9.0, sample CDs of which will be given away along with the free newspaper.