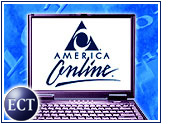 In an effort to speed up users' Internet access so that they do not switch to broadband, America Online will release an upgrade of its leading online service later this summer. The move is intended to shore up the company's customer base against what has been steady erosion.
In addition to a speed-boosting feature, AOL version 9.0 Optimized also will contain other improvements, the company said, including improved e-mail service and cutting-edge graphics for its instant messenger product.
The upgrade, which will come less than a year after AOL version 8.0 launched behind a massive publicity and ad campaign, clearly is aimed at preventing the company's base of dial-up customers from straying to competing broadband services.
Stay or Stray
AOL has lost an estimated 700,000 dial-up subscribers since the end of 2002 and expects to shed some 1.3 million members this year, with most of those users switching to broadband connections.
In fact, the company said its upgrade will be made available first to existing members, who are slated to begin receiving previews today in the form of animated messages.
AOL vice president David Gang said the upgrade, the third in less than a year, is meant to bring "the fun back to being online."
Tortoise and Hare
Although the speed boost in the upgrade will not match the speed of DSL or cable connections, it may be enough to convince some users to stick with dial-up connections, particularly since AOL is offering it at no charge.
IDC analyst Jonathan Gaw said AOL's focus on safety and security in the form of spam filters and parental controls is another tactic to keep subscribers from abandoning its service.
"They're targeting the things people like and dislike about broadband access and trying to answer them both," Gaw told the E-Commerce Times. "To offer improved speed for no more cost is probably going to resonate with a lot of dial-up users who don't yet see the compelling reason to switch."
Optimistic Outlook
Meanwhile, America Online's parent company, AOL Time Warner, got a boost as major stock analysts said it seemed to be operating amid improving business conditions.
Salomon Smith Barney became the latest of several firms to raise its rating on AOL, boosting it from "underperform" to "inline" with peers.
Smith Barney said the conglomerate's media and entertainment holdings will help balance stagnating growth at the America Online unit. In addition, moves to raise cash by selling Comedy Central and settling a lawsuit with Microsoft for US$750 million have helped make AOL Time Warner healthier.
Improvements at America Online may help quell calls by some industry watchers to spin off the unit, essentially undoing the merger that set the media world on its ear when AOL purchased Time Warner in 2000.