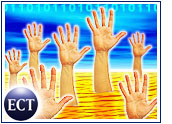 In a potential blow to the growth and profit strategies of some key Internet companies, a new study says broadband adoption soared in the United States last year but will be unable to sustain rapid growth going forward.
The Pew Internet & American Life Project said the number of U.S. residents with high-speed at-home connections grew 50 percent in the year ended March 31st, to 31 million. Pew also noted that high-speed Internet users now make up nearly one-third of the at-home online population.
That figure amounts to a fivefold increase in broadband use since 1998, primarily through cable modems and digital subscriber line (DSL) technology, according to the study.
A number of Internet companies, including AOL Time Warner and Yahoo, have turned their focus toward capturing more revenue from broadband use and driving more users to upgrade from dial-up connections. AOL, for instance, has begun to offer exclusive video and music content through its site. Those offerings demand the type of bandwidth offered by high-speed connections.
Plenty of Incentive
Increasing adoption of high-speed access is also critical to the revival of the beleaguered telecommunications sector — so much so that analysts say price wars could break out to ensure broadband growth continues for the next several years.
Gartner analyst Peter Kjeldsen told the E-Commerce Times that broadband will be crucial to the health of the telecom sector, largely because high-speed online access will become a cornerstone of a business model that derives multiple revenue streams from online consumers.
"The growth will continue," he said. "The providers have every incentive to make sure people keep signing up for broadband."
Survey Says…
But the Pew project said its survey of more than 2,100 Internet users indicates broadband holdouts may be happy with the limited bandwidth they have. In the survey, conducted starting last October, Pew found that 57 percent of dial-up users had no interest in upgrading to faster access, even in areas where such service was already available.
Although those results still imply that 43 percent of dial-up users are ready to make the leap, that figure is significantly lower than in previous surveys, according to Pew analyst John B. Horrigan.
"There is some good news and some bad news," Horrigan said. "The good news is that there is a pool of about 13 percent of dial-up Internet who seem primed to jump to broadband at home. The bad news is that the pool of dial-up users most primed to migrate to broadband — people who have been online for six or more years — is shrinking."
Rooting Internet
E-commerce players also may be pulling for broadband to take hold. Repeatedly, the Internet consumer confidence index prepared by ACNielsen has found that online shoppers with high-speed connections have higher consumer confidence than their dial-up counterparts.
In a survey released in January, for example, broadband users expressed confidence at a rate 21 percentage points higher than that of Web shoppers with slower connections.