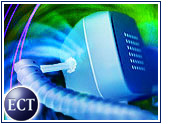 The general malaise in the economy and in the high-tech sector in particular has been especially hard on the telecommunications industry. Recent signs, though, have pointed toward a slow but welcome recovery for high-tech, raising the question of whether the uptick will spell relief for the telecom industry as well. Unfortunately, the answer is probably not.
"I don't think you're going to see any more 1998s and 1999s of telecomcompanies shooting to the moon, in terms of stock prices or revenue growth,"Frost & Sullivan analyst Rod Woodwardtold the E-Commerce Times. "It's going to be a lot more managed, and it'sgoing to reflect much more tempered budgets and tempered spending habits oftelecom companies' enterprise customers."
Digging Out…
Last month, IDC and Gartner released separatestudies predicting that the overall IT industry would slowly climb out of itscurrent doldrums. IDC forecast that the worldwide tech industry would grow 5.8 percent in 2003, with U.S. growth lagging behind the rest of the global market. Gartner's Dataquest unit predicted a 6.2 percent growth rate for next year. The telecom sector, though, is another matter.
Although demand fortelecommunications services, including local, long distance, data and evenwireless, is slowly rising, the still-too-large number of players in the market makes it difficult for any one company to survive.
"There's too much competition at just about every level," Aberdeen Group senior analyst Dana Tardelli told the E-Commerce Times. "The U.S. telecom market might best be an inherent oligopoly, where you should have only have three or four players per region,because it is such a capital-intensive industry.
"These companies are now fighting against each other to sell more product inan environment where fewer buyers are buying," he added.
Depressing Factors
Higher levels of general unemployment also are contributing to the telecom sector'sdownturn, Frost & Sullivan's Woodward explained. "Before, you had a bigger need for telecom services, to service all of those people to the desktop. When you have half that many people in there, you obviously don't need those kinds of services anymore."
Other factors in the telecom industry's slump include overspending on infrastructure, the heavy debt carried by many companies in the sector, and pressure to reduce prices.
Many analysts do not foresee any recovery for the telecom sector in the short term. Instead, even more carriers will either declare bankruptcy or be acquired, causing an adverse ripple effect for their shareholders and equipment vendors. As service providers, including long-distance companies and wireless providers, continue to compete on lower prices, pressures on profits will persist as well.
Some Relief in Sight
But it is not all bad news. While enterprise spending has either reached a flat level or is showing only modest growth, Frost & Sullivan's Woodward pointed to the consumer sector as one bright spot in the telecom market.
"Think of how much consumer broadband rates continue to climb, with theadditions of cable-modem subscribers and DSL subscribers still being prettyhealthy," he said. "The consumer side is probably one of the more excitingor better areas in telecom today."
Aberdeen's Tardelli agrees that the future still holds great promise for some telecoms. In fact, he believes the sector can look forward to a "wildly exciting time" as a result of demand for new features and services. "What cream will rise to the top here? It might not be the ones you think," Tardelli added, declining to choose the specific winners and losers of the industry.