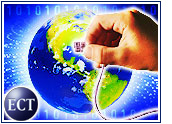 The United States is a wired nation, but not completely so. Two recent reports paint starkly different pictures of the connectedness of the average U.S. resident. The first, released by Technology Futures of Austin, Texas, states that in 2003, the proportion of American households using broadband of some kind — DSL, cable or, in some rare cases, wireless — will surpass 20 percent. More and more people are buying permanent connections to the Net. At the other end of the spectrum, a report published by the Pew Internet & American Life Project indicates the digital divide is still a concern: One-fourth of U.S. residents do not use the Internet at all, including many people who live in homes with wired connections.
Although the digital divide has been discussed for many years, the new dial-up divide also has implications — and it might be worth reminding lawmakers who are trying to jump-start the economy how much increased broadband adoption could do for e-business. After all, a number of signs suggest that broadband connections both increase the volume of goods sold and provide for more informed consumer purchasing behavior. With a little help, broadband may yet make good on some of the more ambitious predictions of the dot-com bubble days.
Wired To Shop
A cursory glance at a few financial statements makes clear that although the yearned-for profits of so-called frictionless commerce have yet to materialize, there has been increasingly rapid growth in online retail in recent months. Moreover, Forrester Research is expecting a 26 percent jump in overall e-sales this year, to a total of US$95 billion. In some cases, individual companies also are showing sharper sales growth than in the past.
For example, Amazon.com reported in its most recent quarterly filing that sales increased to $1.084 billion, a jump of 28 percent compared with the same quarter a year ago. In contrast, that quarter, ended in March 2002, saw a jump of just 21 percent year-over-year from 2001.
The most obvious factor in today's faster e-business growth is simply time spent online. "Broadband has had a huge impact on sales," said Gartner analyst Avivah Litan, who observed that as broadband use has increased, so has time spent online by the average shopper. During the same period, online retail numbers also have risen. Although scientific correlation is difficult in such matters, Litan, who also expects to see about $95 billion in total e-tail sales this year, said Gartner's surveys of home shoppers show that permanent Internet connections remove some hesitation from the online shopping process. "People don't have to think about whether to connect," she told the E-Commerce Times.
Smarter Buyers
Not only the volume, but also the nature of e-business buying has changed as a result of broadband. Shoppers with permanent connections are now combining online research with offline store checks, and they are visiting more stores while online. "People are becoming smarter shoppers," Forrester analyst Chris M. Kelley told the E-Commerce Times. Forrester surveyed 8,000 shoppers last year and found that, increasingly, broadband users are willing to look at many different sites for information and competitive deals on a given product.
As Gartner's Litan explained, "With an always-on connection, people don't feel they have to get right off the line, and they're willing to look at more screens of information," increasing the average time spent researching a product.
Another effect of broadband may be that sales of certain types of items rise. Kelley said surveys show that low-risk goods with an impulse factor, such as books and DVDs, benefit because shopping is less of an event when connectivity is instantaneous.
That trend has been confirmed by at least one online retailer, Buy.com. Company COO Brent Rusick told the E-Commerce Times that purchases of DVD titles are way up. "As we've been able to add movie clips from the studios, we've seen sales increase," he noted.
Circular Selling
Perhaps even more significant than shifts in buying patterns is the change in the nature of selling. Attempts to equal the brick-and-mortar shopping experience now focus on new approaches. During the boom, CEOs and analysts talked about creating 3D "fly-throughs" of a virtual shopping aisle. Now, they point to the high-bandwidth equivalent of a shopping circular, which is possible because more items can be advertised as single pages load faster for a larger number of customers. The circular is "a familiar form that mirrors the offline world," said Kelley, pointing to such examples as L.L. Bean and Circuit City.
Will broadband ever enable e-business to fulfill the dot-com promise that online retail will become more powerful than its offline counterpart? Buy.com's Rusick contends that the ability to provide amazing amounts of information creates a more informative buying experience online than in a physical store. "What we find most of all is our ability to provide more in-depth content to the consumers," he said. "A retail store can't give you an image of both the front of the product as well as the rear panel with connections."
Never mind that you can reach out and touch a product in the real world: Rusick is talking about information. Still, it seems the power of broadband only goes so far. For example, two-way chat, which was seen by many as a boon for customer service, has yet to take off. Gartner's Litan contends that today's mix of access speeds makes it difficult to provide real-time chat as an option, while Buy.com's Rusick says it is too expensive. "People want to stay on chat forever," tying up servicepeople, he explained. Still others "just want to use the phone," Kelley noted.
Henry Blodgett Was Right!
It is too soon to tell whether or not broadband will create a new round of winners and losers, but a familiar enthusiasm is in the air. "All the projections [made during the dot-com era] came true. If anything, the predictions for e-commerce were too low," Litan said. What happens going forward will depend on broadband — how much of it there is and how much it is used.
One of Kelley's colleagues at Forrester, Jed Kolko, anticipates that by the end of 2005, broadband will overtake dial-up, with each connection method representing 35 percent of U.S. households and the remainder of households still offline.
Indeed, two proposed bills, one in the U.S. House of Representatives and one in the Senate, are designed to give broadband a tax incentive.
As more users gain the freedom to roam the vast virtual aisles of the Web at high speeds, Buy.com's Rusick entertains the humble notion that these consumers will return to the stores they know and love. "People become comfortable with a shopping environment. Half our customers are repeat buyers," he said. "That overall experience is what builds a brand online."
Whether or not high-octane surfers will stay loyal remains to be seen. However, increasingly crowded Web page "circulars" and DVD movie clips testify that online shopping has already begun to become a broadband affair.