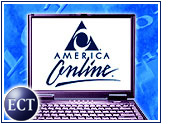 AOL Time Warner executives may be mulling the possibility of spinning off the company's America Online unit, reviving a discussion that had been considered dead. According to published reports, former chairman Steve Case, who led America Online from its founding to its landmark takeover of Time Warner in 2000, has expressed interest in examining the option.
Analysts were quick to point out that Case may simply be frustrated by a series of internal moves at AOL that have left him and other America Online leaders with diminished roles at the company. Case stepped down as chairman recently but remains a member of the company's board of directors.
In addition, Case has been the merger's staunchest defender in the past, even as AOL Time Warner posted a record-setting loss of nearly US$98 billion for all of 2002, much of it tied to depreciation and write-offs stemming from the merger and other boom-era deals.
Shotgun Divorce?
Still, the reports are likely to revive a campaign by some to set America Online free of AOL and undo what to some has become a poster child for ill-conceived mergers driven by the Internet frenzy.
AOL Time Warner has been revamping its identity recently, selling off a stake in GM Hughes and its half-ownership of Comedy Central to raise cash, which it in turn will use to pay down a massive debt load.
In addition, the online unit has not kept up with recent improvements in overall company performance, and concerns have been raised about whether AOL is doing enough to win broadband customers to replace its dial-up account base, which has shrunk slightly in recent quarters.
Mega Merger
On the other hand, analysts say AOL finally is making a concerted effort to leverage its online, media and entertainment properties. They point to exclusive content offered to AOL users and a push to convince more customers to switch to broadband, where offerings like streaming music and video will be more appealing.
"There is still a wait-and-see attitude about the merger paying off the way it was supposed to do," UBS Warburg analyst Christopher Dixon told the E-Commerce Times. "They've done more in terms of cross-platform work lately, but the question is still out there, and it's a matter of time before AOL has to show progress or admit it might need to rethink where it's headed."
Investors Shrug
AOL representatives could not be reached immediately for comment on the reports, which first appeared in The New York Times and said that Case had discussed the option of a spinoff with other senior executives.
Shares of AOL traded down briefly on the reports early Monday but quickly rebounded to $14.78, up a fraction of a percent.