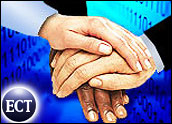 Setting aside their natural competitive impulses, AOL, Microsoft and Yahoo have announced they will work together to fight the flood of unwanted commercial e-mail cluttering their customers' inboxes.
The trio of Internet heavy hitters, which have an estimated 200 million e-mail accounts among them, said their alliance is the first step in what will become a comprehensive approach to canning spam. The companies said the move is necessary because spam "compromises the quality of consumers' online experience and burdens consumers and businesses worldwide."
"Spammers are public enemy number one, both to us and to our members," AOL vice chairman Ted Leonsis said in a statement. "By cooperating and collaborating together, we can make real progress against this toxin that pollutes the Internet environment."
Building Momentum
The move came as the Federal Trade Commission (FTC) prepares to convene an anti-spam forum in Washington, D.C., and as proposed legislation seeking to toughen sanctions against spammers gains broader industry support.
All three companies have touted their in-house spam filters in the past, but the move seems to be something of an admission that those technologies are easily bested by enterprising spammers.
According to Forrester Research analyst Jim Nail, AOL and Yahoo users receive an inordinate amount of spam, even though filters are heavily used.
"AOL and Yahoo! tout their spam filters, but maybe they shouldn't," Nail wrote in a recent report. For instance, although more than two-thirds of all Yahoo users say they use a spam filter, those users still receive the second-highest number of unwanted e-mail messages.
Step by Step
Initially, the anti-spam brigade plans to target four areas: protecting consumers by improving use of filtering and blocking technologies; preventing use of popular Web e-mail services to send bulk e-mail; developing commercial e-mail standards; and beefing up enforcement of existing state and federal laws.
Eventually, the group plans to develop technical standards and formal industry guidelines for what constitutes acceptable commercial e-mail, establishing a framework that will work on any e-mail platform.
"The time has come for competitors and the industry at large to work together to address the burden of spam," said David Cole, a senior vice president at Microsoft's MSN.
Watching and Waiting
To date, the online marketing world has remained largely mum on the issue of how best to put spam back in the can. That may be a reflection of the difficulty of defining spam — a necessity in order to regulate it.
"The concern among marketers is that spam comes to mean all commercial e-mail, not just the stuff that is not targeted and not wanted," GartnerG2 analyst Denise Garcia told the E-Commerce Times. "That's a major concern because good e-mail marketing is still effective."