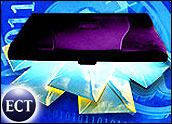 The latest effort to reduce unwanted commercial clutter in consumers' e-mail inboxes has reached the U.S. Senate, bolstered by strong support from several high-profile online companies.
Within hours of the filing of the bill, known as the Controlling the Assault of Non-Solicited Pornography and Marketing Act of 2003, or CAN SPAM, AOL issued a statement of support. The bill's Senate sponsors, Conrad Burns (R-Montana) and Ron Wyden (D-Oregon), said Yahoo! and other companies also have signed on to back the proposed legislation.
The bill would require commercial e-mail senders to include an opt-out address in every message and would levy a fine of US$10 for each message sent after a consumer has asked to be removed from a list.
Already on Board
In its statement, AOL said it supports anti-spam measures that have "real teeth" and are aimed squarely at "the most egregious and offensive spam violators — those who continue their daily spam attacks using the most fraudulent and evasive methods."
The company has made the ability to filter spam e-mails a keystone of its marketing strategy for the latest version of its online service.
"AOL will continue to focus on the approach that works best on spam fighting: a positive mix of legislation and litigation, filtering technology and member tools and education in order to get the job done to 'can the spam,'" the company said.
FTC A-OK
Although similar bills have been filed in the past and some have even won committee approval, the current effort comes at a time when interest in curbing spam seems especially high. A host of states have passed more restrictive anti-spam measures, and some, including New York, already have filed civil lawsuits against some violators.
Meanwhile, the Federal Trade Commission (FTC) plans to host a three-day open forum on the topic of spam starting April 30th.
FTC spokesperson Claudia Bourne Farrell told the E-Commerce Times that the FTC is urging consumer groups, law enforcement personnel and e-mail marketers, among others, to attend.
"We want to get a better sense of what spam means to the consumer and to the Internet industry as whole," Farrell said.
Will Support Increase?
Earlier this week, FTC Chairman Tim Muris told a congressional committee that his agency will continue to pursue enforcement of existing fraud statutes violated by some spammers, but he added that technology improvements in filtering software are also key to stemming the tide of unwanted e-mail.
Online marketing groups and Internet civil rights organizations, such as the Electronic Frontier Foundation, have opposed previous efforts to curb spam on grounds that they infringed civil rights or lumped legitimate commercial messages in with true spam. These organizations have yet to weigh in on the new bill.
GartnerG2 analyst Denise Garcia said legitimate marketers also should support good anti-spam rules, since they will help calm the noise and clear the clutter that has helped drain some of the effectiveness of e-mail marketing, which remains extremely powerful when targeted properly.
"Smart marketers don't want to be lumped in with spam," Garcia told the E-Commerce Times. "Every company doing it right is already sending only to people who have asked and giving them every opportunity to opt out. Government rules at whatever level shouldn't be an impediment to them."