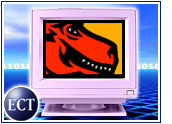 In a sign that one of the main combatants in the browser wars is ready to lay down its arms, AOL has cut workers from its already shrunken Netscape division and has cut loose the Mozilla open source browser project.
AOL did arm Mozilla with some cash, pledging to donate US$2 million as well as other resources to help support the Mozilla Foundation, a nonprofit that will take up the bulk of the open source work.
"It has been a long-standing objective of the Mozilla team to create an independent organization so we can continue to lead and innovate," said Mitchell Baker, who will become president of the foundation. "Mozilla was developed in an open-source environment and built by harnessing the creative power of thousands of programmers on the Internet."
Going, Going, Gone?
The move, which reportedly resulted in the dismissal of 50 Netscape-division workers, some of whom will join the foundation, comes about a month and a half after AOL and Microsoft settled a long-simmering antitrust battle over the dominance of Microsoft's Internet Explorer (IE) browser.
As part of that deal, AOL won a cost-free license that will enable it to bundle IE with its flagship online service for at least the next seven years.
Yankee Group analyst Rob Lancaster told the E-Commerce Times that before that deal, AOL had tapped Netscape for some recent Mac versions of its online software.
"There were some signs that AOL was thinking about bumping IE altogether," he said. "But that settlement really changed the equation. If your own parent company is licensing another browser, the writing might be on the wall."
Certain Outcome
Although Netscape was the dominant player when the browser wars began in the mid-1990s, the battle quickly became lopsided. IE now commands an estimated 90 percent market share, while Netscape languishes in second place with less than 10 percent.
Mozilla's newfound independence likely will be seen as good news by those who have lamented the pace of innovation in the browser space, particularly since Microsoft has implied it will do little to improve IE before it releases its next-generation Longhorn OS in 2005. Web application developers also heartily embrace Mozilla because it enables cross-platform development.
Heavy-Hitters on Board
The Mozilla Foundation will extend the work of Mozilla.org, which had been coordinating the open-source development process. Open source pioneer Mitch Kapor, who designed Lotus 1-2-3 in the early days of PC computing, was named chairman of the foundation and said he will donate $300,000 to the cause.
Red Hat and Sun Microsystems also are planning to continue supporting Mozilla development efforts.
Kapor said Mozilla's newfound independence will give it "even more freedom to innovate and provide meaningful choice to users on all computer environments. A competitive, standards-compliant browser suite is vitally important to maintaining freedom and innovation on the Internet."
Better for Mozilla?
The Mozilla Foundation's Baker told the E-Commerce Times thatAOL's seed funding and pledge of transitional technical support is a majorboost for the open-source effort.
"We've always felt that an independent organization was the best fit forMozilla, since it allows us to do what's best for the product and not forany single corporate supporter or contributor to the development process,"Baker said, adding that "abrupt changes" are unlikely.
With the Foundation, Mozilla will move aggressively to open new channelsfor distribution, find new end-user markets and improve the way improvementsmade by far-flung developers are folded into the software, he added.
Not Dead Yet
Ironically, some have worried that AOL would kill Netscape since the two companies merged in 1999. Regardless of whether AOL or Microsoft is more responsible for the browser's near-demise, however, AOL says it still has more than 400 employees in its Netscape division.
Also, Netscape continues to publish updates to its software. Earlier this month, it released version 7.1, touting new spam controls and other features.