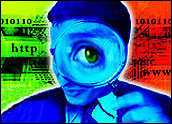 The browser wars of a few years ago, once so lively, now seem like a footnote inInternet history. With 90 percent market share, Microsoft's Internet Explorer is kingof the hill, while Netscape's Navigator trails far behind at about 7 to 8 percent of themarket, Yankee Group senior Internet analyst Rob Lancaster told the E-Commerce Times.
However, even though Redmond seems to have won, some interesting browsershave emerged recently, produced by tiny startups, open-source projects and eventitans like Apple. Could these innovators reignite the browser wars and forceMicrosoft to speed up its own pace of browser innovation?
The answer may be yes, but any new battles will be fought on a different front asincreased wireless adoption paves the way for handheld Web surfing — and the needfor a browser tailored to the medium.
Scrappy Startups
At present, however, the browser industry is mostly focused on the desktop. AfterIE and Navigator, Norway-based Opera clocks in at number three, followed by an agglomeration of other alternatives like Konqueror, OmniWeb and open-source favorite Mozilla.
In fact, the number of browsers keeps increasing all the time. Web developersite Evolt.org lists more than 100 alternatives in its browser archive section.
As David Smith, vice president at Gartner, told the E-Commerce Times, "Therewill always be early adopters of a new browser, those on the fringe, techieswho are looking for something a little bit better and a little bit different."
Users of these browsers appreciate the kinds of features that are missingfrom IE and Netscape. As personalization becomes more ingrained in theculture of technology, developers of new browsers have created offerings thatlet users tweak such features as pop-up control, search capability, auto-fillform completion and look-and-feel.
In a nutshell, the rise of open source has allowed developers and users to make browsingless fixed than it is under the IE model. And it does not look as if that wave will come crashing down anytime soon. Mozilla, for one, has a multitude of projects in the works, including a Windows browser, two GNOME browsers and three Apple browsers.
Most Popular Undergrad
Apple decided to jump onto the open-source browser bandwagon earlier this year,when it released its own Safari browser, based on Konqueror source code,to the eager Mac faithful.
Kurt Knight, Safari product manager, told the E-Commerce Times that Apple'sbrowser has innovative features like built-in Google search capability, betterbookmark management and a way to "snapback" to the user's starting point.
Also, the recently released Safari is one of the speediest browsers on the scene,rendering pages in about 16 seconds, compared with IE's poky 50 seconds,according to Apple.
The most important part of the browser, however, is what is under the hood,Knight said. "For its Web page rendering engine, Safari draws on software fromthe KDE open source project," he explained. "The collaboration between Appleand the open source community ensures full standards support and compatibility,which is essential for a modern Web browser."
Money Market
In terms of revenue potential, most browser projects pale in comparison to IE,but many developers do not seem to care.
For example, when Safari was released in January, Apple CEO Steve Jobs saidonly that it was developed to bring innovation back to the browser scene. Appleenthusiasts have rewarded the company's effort with more than 2 milliondownloads of the beta software.
Still, there is potential for profit: Some browser developers make asignificant chunk of change by renting their creations to other companies.
"The browsers aren't exactly loss leader projects," the Yankee Group's Lancastersaid. "Technology licensing brings in a nice amount."
Right now, there is one large realm for potential moneymaking in terms oflicensing: wireless.
WiFi World
Isaac Ro, senior analyst at Aberdeen Group, told the E-Commerce Times that thereare already a couple of major players in the wireless space. Microsoft has PocketInternet Explorer, which ships with its smartphone, but Ro said this is not one ofthe better wireless browsers.
Instead, he pointed to the mobile version of Opera, which he said does a better jobof rendering pages. Still, such comparisons are only quibbling when the realwireless browser battles may be a long way off.
"It's way too early," Ro said. "There are just not that many devices thatare wirelessly enabled and can use a browser."
No Clear Model
Part of the problem, he added, is that unlike on the desktop, where Mosaic set the standard and all subsequent browsers followed in its footsteps, vendors have taken multiple approaches to creating a browser experience on wireless devices. The end result is that it is difficult to get a good browsing session on a PDA or cell phone.
"There isn't much of a model yet," he said. "Openwave made a lot of moneybecause they licensed their technology per phone, but that's not a modelthat will be used in the long term. That's why people like Microsoft arejust giving it away."
As more browsers are built for desktop and wireless platforms, modifications andnew features have the potential to put a bit more oomph into the browsing experience.With a bright new browser world ahead, can it be long before Microsoft's seeminglymature IE gets a makeover as well? Perhaps the new wars have already begun.