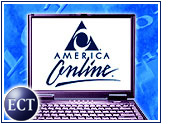 Offering a reminder of just how quickly things can change in the world of business, AOL Time Warner booked a US$1 billion profit for the second quarter — just six months after posting the largest-ever one-year loss by a U.S. firm.
The company said asset sales, its $750 million settlement with Microsoft and some blockbuster movies helped it post the profit on revenues of $10.8 billion, an increase of 6 percent over the year-ago period.
However, at AOL, the company's Internet division, revenue actually fell to $210 million from $274 million a year ago.
Online Woes
The company's guidance about the rest of the year for AOL was even gloomier, predicting that advertising revenue could plunge as much as 45 percent from 2002 levels, driving down both revenue and operating income for the unit.
Those predictions contrast sharply with upbeat predictions from other online companies, including Yahoo.
"They are back on track overall but haven't found the formula yet for stabilizing the online division," said UBS Warburg analyst Christopher Dixon, noting that much of the company's profit gains stemmed from one-time asset sales that are part of a major restructuring: It dumped Comedy Central as well as its DVD- and CD-publishing units in recent months. "It continues to be a question that hangs over their heads."
Flurry of Activity
Meanwhile, on a busy day of high-tech earnings announcements, bellwether e-commerce player Amazon.com sparked investor optimism, beating expectations with a narrower-than-expected loss on sales of $1.1 billion. Shares of Amazon rose nearly 10 percent, to $38.25, in early trading Wednesday.
Lucent Technologies moved to soften the blow of its thirteenth consecutive quarter of financial losses by announcing it had won a $1 billion multiyear contract to help build out Sprint's next-generation wireless network. Although Lucent's sales plunged 33 percent to $1.96 billion, the company managed to whittle down its losses and said it will regain profitable status again sometime during its next fiscal year.
You've Got Numbers
Back at AOL, the online unit saw subscription revenue increase 6 percent in the quarter, but much of that was attributed to gains in Europe, although AOL did say broadband subscription gains helped erase red ink from dial-up customer accounts it lost in the quarter.
Advertising revenues decreased 48 percent, a result of the reduction in benefits from prior-period contract sales of approximately $140 million, as well as lower intercompany revenues. Other revenues declined 62 percent, mainly because of AOL's previously announced strategy to reduce promotion of its merchandise business.
You've Got SEC Questions
AOL also proved unable to shake questions about its accounting methods, saying that the U.S. Securities and Exchange Commission continues to question the way it accounted for deals with Bertelsmann.
The company said it still believes its bookkeeping related to the deals was appropriate and noted that it will try to convince the SEC of that fact.