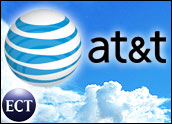 As rock band Pearl Jam performed a set as part of the Lollapalooza music festival this week, AT&T broadcast the performance over the Internet as part of its Blue Room webcast. However, the webcast's audio cut out at a significant point in the band's performance — the moment that singer Eddie Vedder began singing lyrics that apparently bashed President George W. Bush.
The incident came to Pearl Jam's attention after the August 5 performance, prompting the band to post a message on an Internet forum about what happened, along with YouTube videos showing the actual performance and the censored AT&T feed.
During the performance of the song "Daughter," the censored lyrics where sung to the tune of Pink Floyd's "Another Brick in the Wall" but were cut from the webcast. AT&T's content monitor muted the lyrics, "George Bush, leave this world alone" and "George Bush find yourself another home."
'Much Bigger Than the Censorship of a Rock Band'
The band said the incident amounted to censorship.
"This, of course, troubles us as artists but also as citizens concerned with the issue of censorship and the increasingly consolidated control of the media. AT&T's actions strike at the heart of the public's concerns over the power that corporations have when it comes to determining what the public sees and hears through communications media," Pearl Jam noted on the band's Web site blog.
"What happened to us this weekend was a wake up call, and it's about something much bigger than the censorship of a rock band," Pearl Jam said.
Best Intentions Gone Wrong
AT&T's Blue Room starts with noble enough intentions. AT&T works with different concert events to sponsor and stream live performances to the Web so people who otherwise wouldn't be able to attend can watch their favorite bands live from their computers. It's a free site. AT&T says it has webcasted 17 free concerts featuring approximately 310 bands in over 350 hours of live music — and that censoring of lyrics hasn't happened before.
The Blue Room isn't age restricted, so AT&T has a policy about excessive profanity — outside of the lyrics of the songs — and nudity.
On AT&T's blue room site, the company noted in large, white text:
"We screwed up on Sunday night when we deleted some lyrics from a live Pearl Jam performance that we were webcasting on attblueroom.com. We understand why Pearl Jam and their fans are upset. We're upset, too, and embarrassed by this mistake which is totally against our policy — of never, ever censoring political speech."
Furthermore, AT&T, while apparently accepting responsibility, is also blaming an unnamed contracted vendor.
"The editing of the Pearl Jam performance on Sunday night was not intended, but rather a mistake by a webcast vendor and contrary to our policy," Michael Coe, a spokesperson for AT&T, told the E-Commerce Times. "We have policies in place with respect to editing excessive profanity, but AT&T does not edit or censor performances. We have that policy in place because the blue room is not age-restricted."
AT&T says it regrets the mistake and is trying to work with the band to post the song in its entirety. Pearl Jam did not respond to press inquires this morning.
Fuel for the Net Neutrality Debate
"There's evidence mounting that this might not be an accident because there's an allegation that's been put forward, in Wired, that two other bands have been censored at (music festival) Bonnaroo," Jenny Toomey, executive director of the Future of Music Coalition, told the E-Commerce Times.
"It seems less like it was an overzealous censor and more like it was policy that 'We don't want political speech,'" she said.
Wired, for its part, noted that it received an e-mail that was also sent to the Chicago Sun Times, the LA Times, and the Wall Street Journal, and that the message alleges that AT&T censored bands including The Flaming Lips and The John Butler Trio during previous webcasts.
The Question of Character
This AT&T/Pearl Jam incident is important to the issue of network neutrality, Toomey noted, because it speaks to the character of AT&T.
"And character is actually quite important to net neutrality because telecoms have been able to avoid reasonable regulation that the telephone companies for years and years had to operate under — that basically said they wouldn't use their control of the pipe to unfairly compete with other folks who were using their lines. And the telecoms have been able to avoid this kind of regulation because they say they can be trusted to never do that," Toomey explained.
The fact that AT&T is doing this, then, raises a huge question of the company's character.
"Can they be trusted to tell the truth about the Internet and what they are going to do on the Internet when they can't be trusted with something as simple as a Web feed? If they are willing to risk looking like they are censoring someone, in front of the 100,000 or so people who were watching the webcast of one of the most popular bands in American history, then what are they going to do when no one is watching?" Toomey said.
"So, which of us can watch the packet switching that's going on? We can't, and that's why there needs to be clear laws and rules with severe consequences if someone uses their power in a way that's anticompetitive," she added.
If AT&T did indeed intend to stifle political speech, it pretty much backfired — the action was noticed, broadcast around the world over the Internet, resulted in bad press for AT&T and ultimately has received far more attention than a few anti-Bush lyrics ever would have generated on their own.
The real concern of net neutrality proponents is that this sort of exposure could be dampened — not only that content could be censored with little recourse for viewers or artists — but also that it could be throttled back to prevent the spread of less-privileged information.