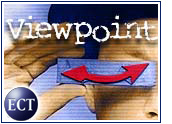 The closing of Lucy.com's Web site last month happened so quickly and quietly that it might have gone unnoticed in the annals of E-Commerce History.
Except for one thing. Those who still love Lucy's sportwear can still go to the real-world store in Manhattan's Crunch gym. That gives Lucy the distinction of being a business founded on the Internet that has opted for bricks-and-mortar exclusively.
According to a farewell note on its Web site, "the high cost of doing business on the Internet has made it impossible to keep the Web site open at this time. Lucy was born on the World Wide Web and we hope someday to return to it."
Not likely, Lucy.
No Second Act
The bigger picture does not support the notion of a Lucy.com sequel. This year could set an all-time record for the number of e-tailers who shut their doors. Could it surpass last year's 150-plus online companies that ceased operations? Maybe.
By some estimates, last month saw more dot-com closings than any month in e-commerce history. Still, Forrester Research recently reported e-commerce grew an astounding 580 percent from 1998 to 2000, marking an increase from US$7.8 billion in 1998 to $45 billion last year.
Some analysts say we're witnessing e-commerce trying to "find itself," that the online economy is booming. It's digital Darwinism — those that tough it out will prosper.
Missing Links
There appear to be parallels among the deceased dot-coms, including massive overspending, reckless capital management — and, lest we forget, the best friend of business students: the "unique selling proposition."
A USP is an idea or concept that sets a business apart from all of its competitors, one that imaginatively fills a gaping void in the marketplace.
Offline, not every business requires a USP. Location, sales strategy, impulse buying and smart advertising can keep several competing businesses alive, even if they all sell the same thing in similar settings.
Online, however, the USP is oxygen.
Market Misconceptions
So what was Lucy.com's USP? One year ago when the site debuted, founder (and former Nike executive) Sue Levin touted Lucy.com's goal of filling a marketplace gap that failed to address the needs of women's sporting apparel. Venture capitalists shared Levin's vision, offering $28 million, of which Lucy.com spent $10 million on marketing the site's launch.
E-tailers, jot this down: the public sees through hype.
Everyone knows women's sporting apparel is available worldwide. Where did all the Jane Fonda loyalists get those colorful ensembles and leg warmers in the 1980s when there were no e-tailers?
Levin did not have her USP figured out. She sold a few people a bill of goods that quickly proved to be hollow.
Nothing Special
The same can be said for other dot-coms. In a virtual pull on their bootstraps, some Web sites though their presence online was their USP. It was the idea that "you can buy it from the comfort of your own home" those early merchants were hawking.
Often, however, customers found the offerings were lacking in originality or the site too cumbersome to navigate.
Moreover, in the case of failed sites Furniture.com, Pets.com and Garden.com, buying the goods from a computer instead of the local store did not make a lot of sense. Dog food and garden tools are nothing special, and most consumers wanted to sit on a couch before buying one.
Now or Never
E-tailers still toughing it out should take a second (or first) look at their own business models, with an eye on either enhancing the USP or creating one.
Crafting the USP shouldn't be so hard. Consumers want value, service and reassurance.A site that leads the way with same-day delivery has a built-in USP. Another site that offers a pop-up window with 24-hour live customer service has at least one USP built-in.
If an e-tailer can cause the mass consumer base to instantly associate its Web site with a specific product or service, the other pieces of the survival puzzle will materialize. Those include repeat business, loyalty and good word-of-mouth.
Add in smart marketing and promotion, and you could have a mixture for survival.
What do you think? Let's talk about it.


---
Note:
The opinions expressed by our columnists are their own and do not necessarily reflect the views of the E-Commerce Times or its management.
---