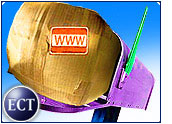 Amid all the buzz surrounding Internet shopping this holiday season — how to maximize profits, cut costs and at the same time attract new customers — e-commerce companies are still working hard to meet the consumer demand for simplicity.
However, making it easy to shop online is no longer the principal problem. This year, the problem is fear. Fear of spending money, fear of signing up to a list, fear of getting a package in the mail. Fear may be the biggest hurdle e-commerce has yet had to overcome.
To entice people to use what once was considered a cutting-edge activity, e-commerce vendors have been pleading their case to the masses for some time now: "It's easy, just try it."
And the masses were a hard group to convince. "Shopping on a computer? Not me, it's too complicated," was the all-too common response.
But then signing in and checking out got easier, and so the Internet retailing business started to sail along in a positive pattern.
Even though a lot of dot-coms went out of business, things were looking up for the sector, with regular increases in the number of new online shoppers and the dollar amounts the old-timers were spending — until September.
Safe and Effective
If the first chapter of online selling was all about grassroots technology and flashy graphics, the second chapter was all about making it easy.
Consider Gartner's recent research finding that 59 percent of Internet shoppers do business at a limited number of Web sites that they find "familiar and comfortable."
Online merchants realized that they did not have to put their brainpower and their money into making e-commerce fancy at the expense of comfort.
But have they learned to make e-commerce safe?
Brand New Boost
A recent research study conducted by Goldman Sachs, Harris Interactive and Nielsen//NetRatings verified that the familiarity factor is key. Their most recent report said that 63 percent of online buyers said "brand awareness" was their top priority. Having previously shopped at a site was a major factor for most respondents.
That finding bodes well for the Amazons of the world — and for brick-and-mortar favorites such as Target and JC Penney that have established an online presence.
However, any Newguyontheblock.com may find itself suffering from a case of poor timing.
Fear Factor
With familiarity already built in for the leading sites, their next job is to provide the other element most seductive to online customers: safety.
Last year, the familiarity factor translated into assuring buyers that their credit-card information would be held in confidence and that their packages would arrive on time.This year, the emphasis is on making safe and easy payments and receiving anthrax-free shipments.
The concerns over shipping have prompted Internet powerhouses like EBay and Amazon to offer some suggestions.
Both companies sent e-mails to customers suggesting ways to avoid misunderstandings in packaging, such as wiping away dust or debris before shipping, and avoiding moisture-absorbing powder to prevent paper items from sticking together.
On Its Way
How effective these hints will be remains to be seen, but the fact that e-commerce companies bothered to send them out indicates the major players are honoring consumer desires for safety in shipping.
Many Internet retailers are also offering consumers the option of having a "gift sent" notice e-mailed to the intended recipient of their online purchases, so that when the package arrives, it will not be as likely to invoke fear.
Dollar Dance
As Web sites work to make shipping safer, the other side of that coin is making Internet payments safer.
For example, PayPal's new debit bar allows the online payment company's 11 million customers to shop at any Web site that accepts MasterCard, using the funds from their PayPal accounts.
PayPal's new easy-payment option bows just as Amazon.com unveils its own credit card, with easy payment terms.
Back To The Future
Is September 11th the catalyst for these changes? Would safety be the critical element of holiday 2001 online shopping, if the U.S. were not in such a precarious state?
Maybe. No one knows for sure, but it is clear that keeping it simple, and offering consumers a dependable, secure experience for payment and shipping, are the tools of the trade these days.
What do you think? Let's talk about it.
---
Note:
The opinions expressed by our columnists are their own and do not necessarily reflect the views of the E-Commerce Times or its management.
---