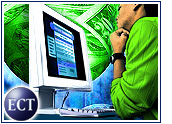 When they write the definitive history book about the evolution of electronic commerce, 2001 may emerge as a pivotal year in the industry's growth.
That may sound surprising, particularly since the year so far has seen a bunch of dot-coms dying on the vine, not to mention general skepticism among consumers, investors and industry observers as to where and when growth will begin again.
Yet despite the naysayers, this year has seen a series of dynamics that could spell success in the long term.
Even this week, in the midst of the nation's tragedy, the dynamics continue. It started with Yahoo! (Nasdaq: YHOO) announcing September 17th that it was repurchasing almost 5 million shares of its common shares from Softbank.
Buying In
Yahoo! stepped in as soon as the U.S. Securities and Exchange Commission (SEC) loosened its restrictions on such purchases. Although the buy represents only a miniscule percentage of the company's outstanding stock, the move was symbolic on a number of levels.
First, the company showed strength and confidence in itself. Further, Yahoo! was among the first to lead the way in buying American, a move many say will bolster the economy.
A number of other tech and e-commerce companies made similar buybacks, including E-Trade (NYSE: ET)and Priceline (Nasdaq: PCLN).
Dealing Around
On another front, e-commerce giant Amazon.com (Nasdaq: AMZN) and retail leader Target revealed their intention to form a partnership. Although both companies remain mum about the details and financial terms, chances are Wall Street will respond favorably.
For Amazon, the deal portends a greater move into mainstream America, because Target is firmly entrenched in middle America. This year Amazon also struck deals with household-name retailers Circuit City and Borders, among others.
For Target, the move signals its recognition that the online channel is worth a corporate investment of money and time.
Picking Up
To the tune of about US$14 million, Global Sports (Nasdaq: GSPT) has continued its expansion with the acquisition of luxury Web merchant Ashford.com.
Ashford, struggling to secure its footing for some time now, was on the verge of being delisted by the Nasdaq, but now finds itself bailed out. Consumers, meanwhile, will have more time to develop their taste for online luxury goods, if Global Sports maintains the e-tailer's current business model.
Even more promising than the purchase was Global Sports' announcement that it would tap the best of Ashford's staff to boost other Web sites that sell luxury items.
The decisions made by Global Sports are a major vote of confidence for the online luxury sector. Global Sports apparently believes that luxury has a place among Web merchandisers, and simply needs more time to grow.
Laying Low?
Now, as the calendar winds down for 2001, the big question mark for e-commerce concerns the near future of consumer behavior.
A number of observers believe shopping malls may see lighter traffic in the coming holiday season and online buying may experience a resurgence. The terrorist attacks have caused noticeable attitude shifts over the past several days, and some expect consumers to spend more time in their homes for the foreseeable future.
Might that lead to a stronger showing for online retailers during the holiday shopping season?
Capitalizing On
If it does, no one should mistake the upswing for the online sales community capitalizing on tragedy.
If anything, a strong showing among e-tailers could be one more necessary boost to an extremely tenuous economy. This is a time when the online community can truly make a contribution to the American culture, and by all indications it is rising to the occasion.
At a time when the national battle cry has become "Buy American," American Web merchants could well lead the way.
What do you think? Let's talk about it.
---
Note:
The opinions expressed by our columnists are their own and do not necessarily reflect the views of the E-Commerce Times or its management.
---