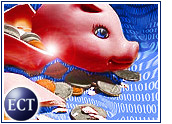 Amazon.com-backed pet supplies e-tailer Pets.com announced Tuesday that it is shuttering its operations and laying off 255 of its 320 employees.
The cash-strapped company said it plans to sell off the majority of its assets, including inventory, distribution center equipment, URLs, content and the rights to its "Sock Puppet" marketing mascot.
Founded in 1998, the San Francisco, California-based firm said the shutdown came after a "lengthy and exhaustive" effort to raise capital. It also had attempted to sell the company entirely.
"It is well known that this is a very, very difficult environment for business-to-consumer Internet companies," said Pets.com chairman and CEO Julie Wainwright. "With no better offers, and avenues effectively exhausted, we felt that the best option was an orderly wind down with the objective to try to return something back to the shareholders."
Although the company's site is still up and running, it has posted a notice to customers that it will stop taking orders on Thursday.
Few Firms Expressed Interest
Pets.com said in a statement that it had enlisted Merrill Lynch to assist it in contacting more than 50 U.S. and international firms to provide an infusion of capital or acquire the company outright.
The e-tailer also said it had trimmed its operating expenses as a stopgap measure to conserve funds.
In September, Pets.com relocated the majority of its customer service operations to Indiana, where the company already had a distribution center, in a bid to lower costs and shorten its path to profitability.
However, those efforts proved fruitless, with fewer than eight companies even expressing interest in visiting its facilities, the company said.
Pets.com warned shareholders that the sell-off of its assets might not generate capital. The company cautioned that its intellectual property could decline in value over time and added that Pets.com might not be able to meet various business obligations.
Customer Information for Sale?
One question that remains as Pets.com winds down its operations is whether the company's customer list will be offered for sale as an asset.
The possibility exists, although there is "a lot of sensitivity" about the issue, according to a Pets.com executive. Pets.com was able to purchase the customer list of Petstore.com when it acquired the company in June.
Pets.com then notified former Petstore.com customers to ask if they wanted their information transferred, giving them the chance to opt out. A similar arrangement could be part of any future sale of Pets.com assets.
"If Petopia.com came to us and wanted our customer lists, we might consider, but it would carry some strict restrictions," the executive said. "There are no details about this yet and I'm not even sure if customer lists would be a viable asset."
Dog Days for Pet E-tailers
The pet supply sector has been a highly competitive arena, with the likes of Petsmart.com, Petopia.com and PetPlanet.com jockeying for a piece of the lucrative U.S. pet supplies market.
However, Pets.com was propped up by its alliance with Internet behemoth Amazon.com, which became a majority shareholder in the company. Pets.com attracted over 570,000 customers, securing a strong market position. The company was often listed as a top online marketer by Media Metrix and other research firms.
Earlier this year, Pets.com raised over $82 million in an initial public offering. In recent months, though, its stock price plummeted from a 52-week high of $14 to just $0.25 on Tuesday afternoon.
Other online pet suppliers are also feeling the squeeze. Last week, rival Petopia.com laid off more than half its staff to trim costs.