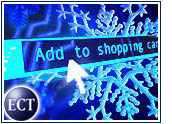 At this time of year, the main topic among e-commerce pundits and industry observers is which online companies will emerge victorious during the coming holiday season.
As was the case last year, when the dot-com shakeout began in earnest, this year's conversation has a sense of urgency, as we wonder which e-tailers will survive the season.
The terrorist attacks of September 11th took their toll on Internet sellers. By some estimates, when the brakes were put on online shopping following the attacks (the "shop-out," as it has come to be called), some online merchants lost up to 5 percent of their third-quarter revenue. That came at a time when e-tailers could ill afford the loss of any revenue.
Although no one is talking about its imminent demise, many in the industry are wondering how industry giant Amazon.com (Nasdaq: AMZN) will fare.
All year, Amazon has announced new strategic partnerships and issued sunny public statements about operating from a position of strength. The company continues to predict fourth-quarter profitability, with Amazon chief financial officer Warren Jenson saying Tuesday that the company was "well positioned" to meet financial expectations.
At the same time, Jenson qualified that statement with an admission that could speak for all of e-commerce: "There are no guarantees."
Crucial Holidays
How holiday sales will shake out is anyone's guess right now. There are too many variables.
If shoppers avoid conventional mall shopping due to insecurities about overspending, being in crowded buildings, or fears of airborne infections, the online community may become an unlikely beneficiary of the brick-and-mortar economic downturn.
However, it is not uncommon to hear consumers discuss limiting their holiday shopping this year, or using money usually reserved for gifts to contribute to relief efforts.
While few will come out and say it publicly, the big picture indicates consumer dollars are needed in the marketplace right now, as desperately as they are needed at Ground Zero and surrounding areas.
What Next?
More than ever, industry observers and investors have been watching Amazon as a barometer for online shopping — eyeing not only the company's sales, but its cost-cutting moves.
Already, Amazon has been streamlining the operation, tightening up controls on inventory and increasing the efficiency of its shipping methods. But operating expenses can only be cut so far before consumer dollars have to carry the company.
Amazon is now at the point where it has become all about cash flow.
The Near Future
Shortly after the terrorist attacks, Goldman Sachs analyst Anthony Noto lowered his 2001 e-commerce growth forecast from 40 percent to 25 percent. As for Amazon, Noto indicated the fourth quarter of this year could be make-or-break time, particularly in view of a possible protracted recessionary period.
If Amazon does not have enough cash to carry it through a recession that could last the better part of next year, bad news could snowball for the company.
Earlier this year, when Amazon cut 1,300 jobs and closed its Atlanta distribution center, it took a lot of positive spin to regain the public's confidence.
Further job slashing and facility cutbacks could alarm an already skeptical investment community. At a time when the company continues to expand via its new partnerships, such reigning in of the operation would seem incongruous.
Shipping Doldrums
And then there is the issue of shipping.
Will America be inclined to ship packages from point A to point B with its usual cavalier spirit, or will bio-terrorism incidents cut into long-distance gift giving?
No one can answer that, but for an industry such as e-commerce that relies solely on efficient, vigorous shipping, public hesitancy to ship gifts could be a dealbreaker this year.
To paraphrase an old favorite Christmas carol, Amazon and e-commerce need a little Christmas … right this very minute.
What do you think? Let's talk about it.
---
Note:
The opinions expressed by our columnists are their own and do not necessarily reflect the views of the E-Commerce Times or its management.
---