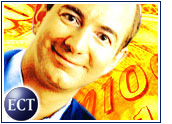 Remarkably, it has been almost two months since the terrorist attacks on the United States, and e-tailers are already having to focus on holiday sales.
The clear leader among online merchants still seems to be Amazon.com (Nasdaq: AMZN). Why? Probably because its leader, eternally-smiling Jeff Bezos, seems bent on innovation for the sake of growth.
Although there has not been a lot of big news from e-tailers since September 11th, Amazon has unleashed a wave of activity aimed at securing its position in the marketplace and ensuring its own longevity.
Wisely, Bezos understands the power of collaboration.
I'll Be There for You
Working with multiple channels has already helped the company weather a few storms, but consider this scenario.
You're watching "Friends" on NBC and you notice a telescope in Ross's apartment — and you suddenly have to have it. After "Friends," you go to Amazon's new page that features only products seen on NBC shows, and with a few simple keystrokes, the telescope is ordered and on its way to you.
NBC and Amazon are scratching each other's backs, providing a multichannel way for viewers to shop and possibly bolster each other's bottom line in the process.
Consumer Confidence
At the same time, Amazon is making some infrastructure adjustments that will enable its customers to track the shipping of 85 percent of items sold on the site — a move that appears to be aimed at helping shoppers feel more comfortable ordering holiday gifts online.
Shipping has been the annual thorn in the side of e-commerce, but with this, Amazon may make many new friends. Previously, only about half of what was purchased on Amazon could be tracked.
In addition, Amazon is also offering free shipping on a host of items right now.
Charge It, Please
Amazon has also come forth with its new Amazon Credit Account, a virtual credit card that, for starters, works only on the Amazon site. The card is a product of Citibank, and if used before January 31st on orders of $200 or more promises no payments due for 90 days.
The seductive credit offer comes alongside the unveiling of Amazon's virtual Target Store, under a new marketing agreement with the giant retailer.
No Bad News
No matter how many reports continue to circulate about layoffs, a weak economy and consumer belt-tightening, Amazon predicted that Q4 sales will improve up to 10 percent from last year's fourth quarter.
If it's all about corralling as many sales as possible, Smilin' Jeff might truly know what he's doing. Just last week, Jupiter Media Metrix offered its own prognostication about the holiday season, predicting that consumers will let loose with $11.9 billion in online shopping during November and December.
Bezos aims to capture the lion's share of those dollars.
Last Laugh?
A number of pundits, industry observers and analysts, myself among them, have questioned in the past the Bezos approach to corporate growth and expansion. There were moves that seemed unreasonably risky — and sometimes even naive.
Looking back, it now appears Bezos was simply subscribing to two business strategies that take time to understand. First, slow and steady wins the race. Second, strategic in-house promotion, plus wise alliances with established power players, equals controlled growth.
Nicely done, Jeff.
What do you think? Let's talk about it.
---
Note:
The opinions expressed by our columnists are their own and do not necessarily reflect the views of the E-Commerce Times or its management.
---