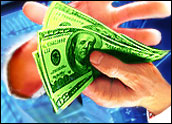 When money is being exchanged, chances are that somebody sometime is going to cheat. Unfortunately, that's the case whether the money is being spent for products, services or philanthropic causes.
The process of exchanging money electronically is ripe for fraud, a fact that has not been lost on a number of scam artists in the weeks since September 11th.
Anyone who doubts the prevalence of online fraud need look no further than their hometown newspaper. Fraud, it turns out, is one element of electronic commerce that makes good, old-fashioned headlines in the local paper.
Worst of Times
At the same time that most people were trying to figure out how to contribute money to the relief funds set up for victims of the September 11th events, a few sleazy characters saw a golden opportunity.
Some people received an e-mail, for example, with "Victims Survivor Funds" in the subject line. At a moment when anyone collecting funds earmarked for the survivors was seen as a godsend, many people willingly, and without reservation, volunteered their credit-card numbers and gave generously.
The catch? "Victims Survivor Funds" and even a few others in the same genre were scams. And even though the Red Cross and other reputable agencies never ask for money via e-mail, the victims of this fraud probably did not know that.
White Hats
The fraudulent agencies were active as quickly as September 12th. Some individuals received e-mail soliciting funds that day, just when Americans were most vulnerable and therefore highly likely to open their wallets.
Soon after — but not soon enough — the good guys rode in on their electronic white horses, issuing warnings about the scams.
The Internet Fraud Complaint Center (IFCC), in a release dated September 18th, warned consumers about e-mail requesting donations, and informed Internet users that in many cases, the link in the e-mail would take them directly to a site that ultimately does nothing more than collect credit-card numbers for unlawful use.
The Coalition Against Unsolicited Commercial E-mail (CAUCE), on its Web site, informed users that if they click on a link in an e-mail and are sent to a URL different from the one on which they clicked, the site is probably fraudulent.
Just One Problem
Unfortunately, most Internet users do not visit the IFCC and CAUCE on a regular basis.
All of us — those who were bilked out of their well-intentioned contributions and those who have simply been robbed of their sense of security in life in America — are victims of the lowlifes who perpetrated charity frauds following September 11th.
We could spend our time discussing the utter lack of conscience in those who defrauded people looking to contribute money to the victims of the terrorist attacks. It might make us feel better for the moment, but perhaps a better response would be to make now the right time to find solutions to the prevalence of fraud on the Internet.
Old Is New Again
Just two weeks before the terrorist attacks, Visa came forth with its own suggestion for combating online fraud. For those who are expecting to hear of fingerprinting, instant retina recognition systems and such, as they say in New York, fuhgedaboutit.
Instead, Visa wants to use good old-fashioned password protection, so that each time one uses a Visa card, a password would be required before the transaction could be completed.It may not be a novel idea, but it could just work.
Further, it has been suggested that the user should change the password every single time a transaction takes place. That may sound like a hassle, but again, it may go a long way in protecting consumers.
Smarter Cards?
Where does that leave "smart cards"?
Smart cards, those newfangled cards with an individualized computer chip that must be read by a computer at the point of purchase, may yet also come into general circulation. The catch is that the card must be read each time a purchase is made, so if someone is making a purchase online, the transaction will require a special piece of equipment, a card reader.
Cumbersome or not, look for smart cards and smart card readers to be in limited use by the holiday season this year.
For its part, Visa says its password-protection system will also be in use by that time.
Miles To Go
In truth, e-commerce is still struggling to battle scam artists on two fronts. First, many operate outside the U.S. and disappear as soon as they get what they came for.Second, many are highly tech-savvy and stay a step ahead of legitimate business owners and consumers.
Even so, taking this opportunity to come together and fight Internet fraud could advance the e-commerce cause.
What do you think? Let's talk about it.
---
Note:
The opinions expressed by our columnists are their own and do not necessarily reflect the views of the E-Commerce Times or its management.
---