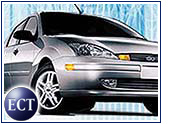 Two years ago, I bought a new car using the Internet in lieu of dealing with a high pressure salesperson.
The year 1999 was still considered early to be shopping, purchasing and negotiating a deal for a new car on the Internet, but I was determined not to go through the dreaded showroom experience.
Once I had firmly decided on a make and model, found a dealership that would work with me electronically and almost sealed the deal, all I had to do was show up at the dealership, sign my name and drive away.
And I've never looked back.
If it was so simple to make this happen even two years ago (light years in e-commerce time), why is the auto industry still trying to find its footing in business-to-consumer (B2C) e-commerce? Why are you not buying automobiles via the Internet?
Kicking the Tires
That's a complex question, because for Americans to buy their vehicles en masse via the Internet would require a significant cultural shift. After all, our brand of consumerism generally goes like this: the bigger the purchase, the more of an event it is to make it happen.
We were perfectly willing to buy a shirt, for example, from a catalog. Therefore, learning how to buy the same shirt from a Web site was not such a stretch for us.
More major purchases, however, such as cars, appliances and houses, have always relied on human contact, "site visits" to showrooms or display houses, and especially a local feeling.
It will take some highly active persuasion to convince the overwhelming majority of car buyers who have not used the Internet to make the purchase.
Auto-Seduction
Notice I said "persuasion," not "manipulation." To their credit, auto manufacturers have already recognized the intelligence of American consumers by providing them with Web sites that are information-intensive and graphically interesting.
The result? According to J.D. Power and Associates, 20 to 25 percent of individuals who visit a brick-and-mortar automobile showroom end up buying a car there. By comparison, various automobile manufacturers report their Internet-related closing rate to be between 15 and 20 percent.
Something tells me when I bought my car two years ago, the Internet closing figure was probably considerably lower.
Closing the Sale
So how important is it for Americans to take the plunge and buy a car on the Internet? Some industry analysts still say that once American consumers shift their major purchase buying habits to the Internet, e-commerce is home free. It would signify a high level of trust among consumers.
Others say it is just the opposite. Their contention is that it is more crucial to convince consumers to buy socks, underwear and paper towels on the Internet, that once Americans truly commit to consistently buying staple items regularly online, e-commerce will have fully become part of the average consumer's lifestyle.
Both viewpoints have merit. However, so far, socks and underwear are winning the race.
Checking the Numbers
Most Internet users who are in the market for a car use Web sites to gather information, and then proceed to a dealership to buy their cars.
The numbers of unique visitors are strong among major manufacturers. In July, according to Nielsen//NetRatings, 1.4 million users visited Ford.com, while almost 1 million visited Chevrolet.com. Toyota attracted 809,000 unique visitors, while Honda saw 782,000 users.
Those numbers are significant if only because they indicate that millions of consumers are taking a step toward shifting their buying habits. Further, Jupiter Media Metrix reports that car shoppers spend an average of more than 10 minutes on car sites. A lot of persuading can happen in 10 online minutes.
What Works
Even if auto sites are still trying to find the magic formula, some critical elements of online car buying have already emerged.
First, pictures count. Check out Saturn.com to see online auto marketing and sales at its best. Clear pictures from all angles, interior and exterior make the experience easy, thorough, and yes, persuasive.
Second, if the customer is to be connected with a dealership, the dealer should have a sales person dedicated exclusively to online sales. That sealed the deal for me two years ago. There was a real, live human with whom I could communicate, even if all communication took place electronically.
And finally, a moratorium on price gouging would go a long way. Fair pricing and flexibility count.
Would I do it again? In a heartbeat.
What do you think? Let's talk about it.
---
Note:
The opinions expressed by our columnists are their own and do not necessarily reflect the views of the E-Commerce Times or its management.
---