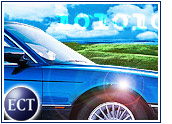 With the idea of consumers actually buying cars from pure-play Internet companies all but dead, analysts say that real-world car dealers should be accelerating their use of online technology to get more shoppers into their showrooms.
Research studies and interviews, however, suggest that dealers have a long way to go.
The National Association of Auto Dealers (NADA) noted in a recent report for its members that the car industry's old guard got left behind in the early stages of online retailing, because dot-coms, more flexible by nature, were able to get set up more quickly.
However, once-promising online car operations have now either merged or fallen by the wayside, providing an opportunity for dealers and manufacturers to appropriate the Internet for car sales.
"Reality has hit home with the majority of dealerships," and they are moving to integrate their online and offline businesses, the NADA said.
Potential Wasted
Most car dealerships have Internet managers to serve as the point person for customers who walk through the dealership's cyberdoor, according to Chris Denove, a partner at J.D. Power & Associates. That manager is armed with software that can send automated replies to e-mail queries, assign an Internet customer to a particular salesperson and manage follow-up contact.
However, a recent J.D. Power survey found that dealers are not using the Web to their best advantage. Denove told the E-Commerce Times that J.D. Power researchers were greeted with "doe-in-the-headlight looks from Internet managers" in response to questions about how they were using their lead-management software.
Many were unaware of the tools available to them, Denove said. E-mail queries to dealerships often result in a brusque, automated response telling the potential buyer to come in for a test drive or call for an appointment, with no regard to specific questions being asked.
Some dealers, said Denove, tend to view the lead-management software system as "a big inbox."
Armed Consumers
Meanwhile, consumers have embraced the Internet for research before buying a car, so many are armed with the latest information about the models they might purchase. A Gartner study earlier this year found that while only 3 percent of car buyers used the Web to make a purchase, 45 percent used the Web for purchase-related research.
A customer who has done his homework on a particular vehicle already knows the gas mileage, performance statistics, and often the price the dealer pays for the car. Dealers, accustomed to doling out information in small amounts during the selling process, have been forced to work with the new trend.
Dealers "need to make sure that their salespeople are at least more savvy than the customers" about the cars they sell, said Denove.
Coping Mechanisms
So will car dealers be able to cope with the new breed of buyers? For its part, the NADA said that the industry "has the ability and foresight to use the Internet effectively in connecting (with) people."
By "fully leveraging information systems," the NADA report said, "dealers and manufacturers may have the ability to respond quicker and easier to production, consumer and market demands."
Wrong Prices
Another issue that dealers using the Web as a sales tool must address is pricing discrepancies. Often the "Internet price" that consumers encounter while surfing is a lowball figure that applies only to a particular vehicle, or an outdated figure from an unreliable Web site.
A study released in April by CNW Marketing Research found that car prices quoted online were often wrong, sometimes by hundreds of dollars. The research firm said the discrepancies, which were bigger than in a year-earlier study, stemmed from understaffing at the sites.
The study also found that consumers were less trusting of online price quotes than they were a year earlier.
All this means that even though the Internet can eliminate some of the initial stages of comparison shopping for car buyers, many will be frustrated to find they have to put up with the traditional hassles and haggling that come with a car purchase.
Driving the Internet
Despite all these fits and starts, expect car dealers to embrace the Internet more and more in the future. More dealers have begun to see the Web as just another sales venue, rather than as a competitor or a separate operation.
"We're at the point where there's still resistance to just accepting the Internet as another channel," John Lancaster, who runs a chain of dealerships in Madison, Wisconsin, told the E-Commerce Times.
When that resistance fades, Lancaster said, "it will be a wonderful tool."