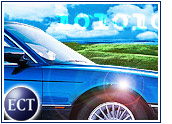 A new car company offering customized automobiles over the Internet has beenformed through the merger of online car sales company Model E and Flint, Inc. a start-up created by CarsDirect.com co-founder Scott Painter.
The new venture, called Build-To-Order or BTOauto.com, said that it will be led by the former chief executive officer of Model E, William Santana Li, andwill include executives from such automakers as GM, Ford and Toyota. Painter will serve as the company's chairman.
"It's about the right time in the industry for this kind of thing to behappening," Forrester senior analyst Dan Garretson told the E-CommerceTimes. "I think you'll see a lot more of these kinds of initiatives inthe future."
Losing The Lease
Model E offered customers the opportunity to lease high-end vehicles over the Internet, including cars manufactured by Model E as well as customized "enhanced" vehicles made bytraditional manufacturers.
According to published reports, the new venture will discontinue Model E's "subscription" plan, which provided customers with a combined service covering their automobile lease, insurance and maintenance for a flat fee.
Both the build-to-order and leasing services "were verydifficult things to do, because they're relatively separate businesses," according to Garretson.
"I think it's a good thing they're choosing to focus on one side or the other,"Garretson said.
Ford Case Settled
The formation of the new company may have also helped Model E come to termswith a lawsuit filed by the Ford Motor Company (NYSE: F), which argued that the name "Model E" tooclosely resembled the trademark name of Ford's famous Model T car.
Under the terms of a settlement agreement announced Wednesday, Model Eagreed to transfer its rights in the Model E trademark and domain names to Ford.
Different Challenges
The online auto industry has been hit by a wave of consolidation in recentmonths, including the merger of CarsDirect.com and Greenlight.com inFebruary, as companies try to figure out an effective method for Internet sales.
A study published last year by the Gartner Groupfound that while 45 percent of U.S. households used the Web in thecar-buying process, 3 percent actually bought cars online.
However, Garretson said that Build-To-Order will not be subject to the samebarriers that ultimately undid sites such as iMotors.com.
Driven to Webvolution
"This is fundamentally different," Garretson said. "This is creating a niche brand wherethey're leveraging manufacturing capabilities to create customized vehicles.These are going to be very specialized cars, targeting specific niches.Other online players were trying to create yet another middleman, but BTOwill be able to sell directly because they own the direct distributionchannel."
That does not mean the new company will not have challenges of its own toovercome, Garretson cautioned.
"Consumers don't think of purchasing this way," he said. "And [BTO] still has to builda brand. They will have a major challenge competing with large,deep-pocketed OEMs (original equipment manufacturers)."