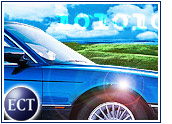 Millions of car shoppers do not buy cars online because automakers are misfiring with their marketing efforts, according to a report released Tuesday by Forrester Research.
Car sites overwhelm potential shoppers with information, rather than carefully guiding them through the shopping process to the buying stage, the Cambridge, Massachusetts-based research firm said in its report, "Bridging Auto's Consideration Gap."
While the auto industry spends US$42 billion a year on marketing aimed at acquiring customers, online efforts have been crude to date, Forrester said.
"Auto marketers are missing an unprecedented opportunity," Forrester senior analyst Bab Shetty said.
Focused Attention
"Online car shoppers willingly offer up the most precious resource in the marketing world — focused consumer attention," said Shetty. "Yet carmakers respond with vast, confusing and unpersuasive sites."
Forrester believes that the key to converting shoppers to buyers in the car arena is targeted, episodic marketing that focuses on the specific stage of the process each customer is in. Focusing the marketing efforts will help consumers survive the barrage of information they now get if they start car shopping on the Web.
"Successful auto marketers will streamline the process," Shetty said.
Convergence Ahead
Forrester predicted that more car companies will use the new techniques, which employ interactive technology to refine a user's online experience, by the end of 2002.
Timing will be important as well, the study said, as the Web and interactive TV begin to converge in 2003, offering full-screen video and other persuasive marketing techniques to be used online.
Perhaps more than any other online industry, Internet car sales have suffered from a massive gap between shoppers browsing and actually purchasing. The Gartner Group recently found that 45 percent of U.S. households used the Internet to research a car purchase, but 3 percent bought over the Web.
Web Uncertainty
Meanwhile, amid recent consolidation in the auto sales industry — including the merger of CarsDirect.com and Greenlight.com — there appears to be increasing tension among automakers and their dealers, many of whom fear that the Web will be used to cut them out of the sales process.
General Motors attempted to address this concern in part with its announcement last week that it would form a partnership with its network of dealers to build AutoCentric, a Web shopping site offering access to GM cars as well as other brands.
A study by EDS, released at the National Automobile Dealers Association's annual meeting last week, found that 13 percent of dealers ignore sales leads generated by the Internet. Possible reasons cited for this finding include the fact that Web shoppers are generally more informed, so that sales to them generally produce less profit for the dealers.