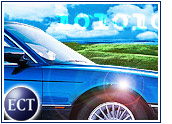 Divisions of Ford Motor Company, DaimlerChrysler, and General Motors announced Thursday that they are partnering with imaging and information services company Bell & Howell to form a new online parts and service portal, catering to auto dealers and their wholesale customers.
Bell & Howell spokesperson Dwight Mater told the E-Commerce Times that the site, tentatively named OE Connection, is already in beta testing.
Mater said that the companies anticipate beta testing will continue through most of first quarter 2001. Because the initial functions are based on an existing Bell & Howell product, the companies said that the new venture "will get up and running very quickly."
According to the partners, OE Connection is different from the Big Three's existing B2B e-marketplace, Covisint, because it is designed to connect original equipment manufacturers (OEMs) with dealers and wholesale customers. Covisint, on the other hand, partners OEMs with auto manufacturers.
Approval Unnecessary?
Although Covisint had to undergo arduous scrutiny from regulators in both the U.S. and Germany, the companies say that the new company "will not need regulatory clearance to begin operations."
DaimlerChrysler spokesperson Jeff Leestma told the E-Commerce Times that the reason the companies do not believe regulatory approval is required is "because of the way the company is being formulated."
Leetsma added that the new company also deals with after-market parts that are "not really interchangeable" between different makes of automobiles. He did concede that the U.S. Federal Trade Commission (FTC) "may look at it."
The FTC had no official comment on the proposed exchange.
Covisint was among the first B2B marketplaces to gain regulatory approval, but its approval was not unconditional. The FTC said that it could not determine whether or not Covisint would cause competitive concerns because it had not yet adopted rules or terms, and because its founders account for a large share of the automobile market.
Inside the Portal
The companies declined to discuss the capitalization of the new company, but they did say that each of the Big Three, along with Bell & Howell, will have an equity stake in the new venture.
The new company will exist as an independent entity in facilities at Bell & Howell's Richfield, Ohio headquarters. Although the new venture will eventually have a full-time staff "independent of the four companies," it will initially be staffed primarily with Bell & Howell personnel.
Heading OE Connection as president and chief executive officer will be Chuck Rotuno, formerly senior vice president and general manager of global automotive publishing at Bell & Howell.
The companies estimate the total market for repair parts to be worth between US$100 billion and $120 billion. Revenue for OE Connection is expected to come from subscription and transaction fees.
The companies did not rule out the possibility of participation from other automakers, adding that they would be "very interested" in other OEMs joining the alliance.
Collision Dealers First
The companies plan to launch the new portal with a single product: Bell & Howell's CollisionLink, which allows for secure parts quoting, ordering, and order validation between dealers and collision shops.
The companies said that eventually, the parts and service portal could support "all dealer wholesale parts transactions, including those to fleet and independent service center customers."
A report released earlier this month by Jupiter Research found that that 41 percent of the 58 business-to-business industry sponsored marketplaces (ISMs) launched this year are currently able to conduct transactions online, and another 33 percent are expected to go live before the end of the year.
Jupiter said that ISMs have a good chance of succeeding because of the deep pockets of their corporate sponsors, built-in reservoirs of talent, transaction liquidity, and gains of their market participants.