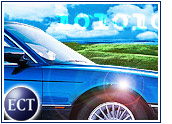 CarsDirect.com said Wednesdaythat it will buy Greenlight.com, an online car site backed by Amazon.com.
The sale, which will reportedly result in about 75 job cuts beforethe merger is complete, is the latest sign of consolidation within theonline auto sales sector, which has had trouble gaining traction withconsumers.
Both companies are privately held, and although terms of the deal were notdisclosed, the deal is reportedly a stock trade.
Greenlight.com chief executive officer Joel Manby called the merger a "home run for dealers,partners, investors and most importantly, consumers." He said the mergerwill create a " clear market leader" in the car-buying sector.
However, just how big that sector will become is open to debate.
Online Car Sales Stalled
While more and more Americans are using the Web to research carpurchases, far fewer actually buy their cars over the Internet. A recentstudy by the Gartner Group found that while 45 percent of U.S. householdsused the Web in the car buying process, just 3 percent actually bought theircars online.
Still, Forrester Research now says that the number of new-car buyersvisiting auto Web sales sites will nearly triple by 2003, to 28 percent of all new-car buyers.
Forrester analyst Baba Shetty called the merger "the right move" because it will quickly build a base of more than 3,000 car dealers for CarsDirect. In addition, the analyst commented that the two companies had taken similar approaches to connecting with consumers.
Los Angeles-based CarsDirect now has a chance to "buildmindshare and market share" while car makers and dealers "wrangle over howto offer customers online buying options," Shetty added.
Ties to Amazon
Amazon took a 5 percent stake in Greenlight.com early in 2000 and unveiled a front-page tabfrom its main site to the car seller in August.
The companies said that the relationship with Amazon will be maintained after themerger. Amazon senior vice president Bill Price said that the e-tail giant is "excited" to continue its affiliation with the rapidlyevolving online car sales industry.
Red Light on IPO
In December, CarsDirect cancelled along-languishing initial public offering (IPO), through which the company had hoped toraise more than US$170 million.
Nonetheless, in an indication of how high hopes have been for Web auto sales, thecompany has been the beneficiary of some of the largest private equityplacements in history, including a $280 million round in November 1999.
CarsDirect's backers include the Pasadena, California-based incubator Idealab! and Goldman Sachs.