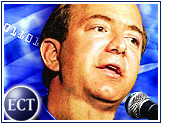 E-commerce giant Amazon.com will add cars to its product offerings with a new link to online auto retailer Greenlight.com, the companies announced Wednesday.
"We are interested in anything where we believe we can revolutionize the buying experience," Amazon chairman and chief executive officer Jeff Bezos said.
The new link, to be posted Thursday, will present vehicles in standard Amazon format. Automobiles will be part of Amazon's new ventures section, which includes all of Amazon's non-media products and has produced $500 million (US$) in new business in one year, a company spokesman said.
Development Took Eight Months
In an interview with the E-Commerce Times, Greenlight president and chief operating officer Mark O'Neil said the deal has been in the works since January, when Amazon bought a five percent stake in the privately-held Greenlight.
"It's a great deal for Greenlight," O'Neil said. "It gives us access to 23 million Internet purchasers who have shown a willingness and ability to purchase online. It's the best customer base on the Internet."
As part of its January deal with Amazon, Greenlight agreed to pay $82.5 million over five years in return for promotion by Amazon.
Greenlight Growing
The new link with Amazon was announced two days after Greenlight revealed it received $39 million in additional funding from investors including Amazon, Techno-Venture Company and Kleiner Perkins Caufield & Byers.
A Greenlight spokesman said the company, which now operates in 27 U.S. states, will expand nationwide by the end of this year.
Latest in Amazon Expansion
The deal with Greenlight is just the most recent of Amazon's forays into new e-commerce arenas. In the last year, the company has added links with Pets.com, Gear.com, Drugstore.com and Homegrocer.com.
However, one of Amazon's new links — Living.com — shut down last week and announced it would file for bankruptcy.
Coincidentally, one of Greenlight's competitors, CarOrder.com, also shut down its Web site last week and stopped taking orders.
"We were able to sell all our cars for a profit, but not enough of a profit," company spokeswoman Erica Brynes told the E-Commerce Times.
Greenlight was founded in 1999 as a joint venture between Asbury Automotive Group and Kleiner Perkins Caufield & Byers.