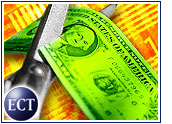 Furniture e-tailer Furniture.com announced Monday that it has laid off 76 of its 88 employees and will be discontinuing operations.
The company said the remaining 12 employees will "ensure the professional management of matters relating to the closure, including the review of available options for sale of the company's assets."
Customer Lockbox
According to a company statement issued Monday morning, Furniture.com has had "difficulty securing sufficient capital to fund operations going forward." Ironically, the site bears the upbeat message "Furniture.com is proud to announce an exciting new look, designed to make our website even more user-friendly and eye-appealing."
However, the Framingham, Massachusets-based company said that it had been placing consumer deposits and payments into an escrow account since May in order to "safeguard availability of funds for refund."
Eligible customers who have not received refunds will be contacted by the escrow agent within approximately 60 days with instructions on how to submit refund claims, Furniture.com said.
Furniture.com's Troubled Year
Although Furniture.com started out 2000 with high hopes and filed for an initial public offering (IPO) in January, the company has been beset with problems. Like many e-tailers, Furniture.com has not been able to turn the corner to profitability. Last year, according to its IPO filing, the company lost $46.5 million (US$).
In June, citing poor market conditions, the company withdrew its proposed IPO and met with bankruptcy attorneys. The summer months also saw the exodus of six high level executives and two board members, as well as the layoff of 41 percent of the company's workforce.
According to published reports, several of the executives who resigned said that they did so because they were concerned about the company's business practices.
The only thing that saved Furniture.com from bankruptcy over the summer was a last minute cash infusion of $27 million from a group of investors led by Internet venture firm CMGI.
Furniture Fallout
Furniture.com's closing is sure to send chills down the spine of other online furniture stores, because it was undeniably one of the most trafficked in the sector.
The company claims that approximately one million unique users visited the site in September, adding that its revenues of $22 million for the first nine months of 2000 were more than twice its net revenues for all of 1999.
Notably, the failure of two high-profile competitors failed to boost Furniture.com's fortunes. In August, Amazon-backed site Living.com announced that it would lay off all 275 of its employees and file for bankruptcy, while HomePortfolio.com said a month later that it would close its e-commerce operations and reinvent itself as a application service provider for the furniture industry.