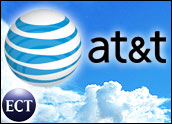 Telecommunications giant AT&T may make an offer to buy Dish Network parent company EchoStar, according to a published report that sent EchoStar's stock soaring Monday.
AT&T is in the process of preparing to go public with a formal offer for EchoStar, something that could happen before the end of the year, according to a story in Barron's over the weekend.
The report cites the recent drop in EchoStar stock, which had lost 24 percent in a little less than a month — dropping sharply after the company missed its quarterly financial targets — as a motivation for AT&T to consider the move, which has been rumored on and off for months.
May Move Quickly
AT&T is motivated to move quickly to ensure it can get any deal reviewed by regulators during the current administration rather than taking a chance the regulatory environment could change after President Bush leaves the White House in January of 2009, the newspaper said.
EchoStar shares were up nearly 20 percent in midday trading despite an overall down market, rising US$7.63 per share to $47.46. AT&T shares were down more than 4 percent, meanwhile, to $37.85.
AT&T declined to comment on the reports; EchoStar did not respond to a request for comment from the E-Commerce Times.
Making Odds
AT&T's motivations are clear to discern: Controlling Dish TV would enable it to offer its customers a full bundle of services: phone, Internet, wireless and video services. AT&T is building out its own video service, known as "Uverse," but that is expected to take years to reach market saturation.
A deal for EchoStar could be worth as much as $30 billion, with Barron's saying discussions have taken place about AT&T offering $65 per share, though EchoStar may try to get a higher final price.
EchoStar fueled speculation it would be put up for sale when it recently announced it would split itself into two units, one controlling the satellite services and the other holding the company's technology assets.
There is a 65 percent chance of an AT&T-EchoStar merger over the next year, Citigroup analyst Jason Bazinet said in a research note published Friday.
EchoStar's Dish TV service trails only DirecTV among satellite television providers, with 13.7 million subscribers at the end of the second quarter.
Another Base of Customers
AT&T, meanwhile, has seen rival Verizon gain much more traction much faster with its FiOS fiber-optics Internet and video service, recently reporting that it had passed the 1 million customer level while aggressively seeking to add to the number of markets where it is licensed to deliver video, noted independent telecom analyst Jeff Kagan.
Having a strong video offering is critical for phone companies as they compete head-to-head with cable companies to deliver full bundles of services, Kagan told the E-Commerce Times.
"They continue to roll out Uverse, but it's clearly taken longer to gain traction than even they thought it would," Kagan said. Earlier this month, AT&T said it had 126,000 U-verse subscribers, and lowered its targets for the nationwide rollout of the service.
Owning EchoStar may be a way to offer video to locations where its video network is not yet built out and would give it another base of customers to sell additional services to as well.
Familiar Refrain
The idea of linking with satellite TV carriers is not new for phone companies. In 2003, AT&T predecessor SBC Communications, later merged with AT&T, attempted to buy DirecTV.
More recently, AT&T has benefited from its past acquisitions and its partnership with Apple on the iPhone, which have helped it record double-digit profit and revenue growth in recent quarters.
AT&T is eager to supplement that wireless-driven growth with success in other parts of its business, however, said Yankee Group analyst John Jackson.
"AT&T and Verizon have been benefiting the most from the consolidation in the wireless space," Jackson told the E-Commerce Times. "But they still face plenty of competition for home customers from cable companies and from one another."