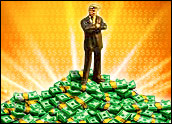 Having just agreed to buy Slingbox maker Sling Media, Dish Network parent company EchoStar Communications now is considering splitting itself into two distinct companies.
The Colorado-based satellite TV company wants to separate its consumer-based and wholesale businesses, a move it says will allow both to better prosper. The plan, if enacted, would be "transparent" to 13.6 million Dish Network satellite television customers in the United States and the Dish Network would continue to operate with the same name, EchoStar said.
The company tipped its hand by asking the Internal Revenue Service to rule on whether the transaction can be accomplished free of taxes. EchoStar shareholders would emerge with separate ownership interests in both "distinct, publicly traded" companies calculated on a prorated basis.
The plan calls for spinning off most of EchoStar's technology and infrastructure assets that are not directly related to the Dish Network. A date for the spin-off has not been determined and EchoStar said it is preparing a registration statement that will be filed with the Securities and Exchange Commission.
A Worthwhile Investment
News of the proposed spin-off comes on the heels of EchoStar's announcement it is spending US$380 million to acquire Sling Media, the creator of SlingBox and SlingPlayer software. SlingBox allows televisions to be controlled by personal computers, portable digital assistants (PDAs) and smartphones. EchoStar was an early investor in Sling Media, which was established about three years ago.
The acquisition, scheduled to be completed before year's end, will allow EchoStar to offer "innovative and convenient ways" for its customers to watch programming on many devices, including mobile units, said CEO Charlie Ergen.
Included in the deal is the Sling Media Group, created last year by Sling Media to develop "entertainment experiences and business models that reach beyond the SlingBox."
The Media Group created Clip+Sling, which allows people to clip and share segments of TV programs.
Core Competencies
While EchoStar's proposed split may appear designed to make one or both of the new companies more attractive to potential buyers, Jimmy Schaeffler, Carmel Group chairman, senior analyst and chief service officer, said the move makes sense even if acquisition isn't the goal.
"The downsides of this are a lot less of a concern than the potential upside," Schaeffler told the E-Commerce Times. "It's a good strategic move. They (the two parts of EchoStar) are different. This sets them up to retain one while using the other to buy other assets or for getting the other one sold. It gives them a lot more flexibility."
If EchoStar goes through with its proposed fission, it's likely that Sling Media will be folded into the technology and infrastructure company which, according to EchoStar will include EchoStar's set-top box design and manufacturing business, international operations and assets used to provide satellite services to third parties, satellites, uplink centers and spectrum licenses "not considered core to Dish Network's subscriber business."
The acquisition of Sling Media was also a good idea because "it fits what they have been doing for a very long time, which is trying to get video into more mobile places," Schaeffler said.
For example, EchoStar, in its effort to move video from into new environments, created a portable device called the PocketDish that allows owners to record — and take with them — hours of TV programming, music, photos and games, the analyst noted.
"That's their first foray into that area," said Schaeffler. "Then, they invested in Sling a couple years ago. They found the investment to be a good one and they are ready to take it to the next level, which is great for consumers. It gives them new depth and breadth."
The acquisition might help the company spread its content distribution capabilities, said Greg Sterling, principal analyst at Sterling Market Intelligence.
"I think it's, to some degree, about Internet distribution for programming," Sterling told the E-Commerce Times. "SlingBox is about getting TV programs and corresponding advertising onto TVs remotely, which is a kind of version of Internet distribution. While it's not exactly the Internet, it's an Internet connection, so I think this extends their reach as more and more people are going to Internet to watch video."