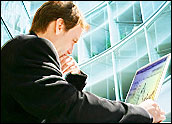 Globalization, adoption of more open, capitalist economies in developing countries, and technological advances have made building a small or medium-sized business (SMB) as tough as it's ever been. The potential rewards are substantial, however.
Thanks to developments in the IT and telecommunications industries, SMBs — like their larger counterparts — are now able to benefit from distributing core application software throughout their organizations, helping them build businesses that can tap into opportunities the world over. The market's largest software and computing systems vendors — the likes of IBM, SAP and Oracle — as well as less well-known providers have offerings targeting the SMB space.
However, selecting an enterprise application software solution is a process fraught with pitfalls. A judicious choice of vendor and software can mean the difference between failing and thriving.
"Are the software licensing and pricing terms comparable over a 10-year period? Does the vendor have a clearly defined product road map for the next 10 years? What do references in your industry say about the ownership experience of the product?" These are just three of the key questions SMBs should ask when choosing an enterprise application, according to Forrester Research Principal Analyst R. Ray Wang.
Proven Products, Solid Support
A lot rides on the choice of the core applications supporting a business, and for firms with comparatively smaller budgets and limited IT and other resources, choosing the right vendor is a high-pressure process. Before compiling a list and approaching vendors, SMBs should clearly define their needs; the methods, means and measures they will use to choose and differentiate between vendors and offerings — as well as to gauge their value to the organization; their expected returns; and their payback period.
"Will you be able to find cost-effective and available implementation resources? Are there various deployment options and implementation methodologies that expedite the implementation time? Is it easy to find training resources or individuals with existing experience to run the application?" and "What's the vendor's financial viability, and can you build an effective partnership with them?" are all key questions that should be part of an SMB's vendor and enterprise application selection process, Wang advises.
Generally speaking, that leads SMBs toward preferring proven solutions backed by proven vendors that offer solid tech and customer support. It also means finding a vendor that can demonstrate the ability to get a best-fit solution up and running in a short time frame, as well as one that offers a flexible upgrade path and maintenance fees that don't break the budget.
Beyond Cost and the Short Term
SMBs looking to choose enterprise application vendors and solutions need to go beyond cost and the short term to determine the real value they're looking for.
"This can be extremely challenging in an enterprise software selection process, which is why Lawson developed Lawson Opportunity Analyzer, which includes something called a 'value assessment,'" explained Pramod Mathur, technology programs director for Lawson Software.
It allows an organization to set practical business performance targets and identify, in advance, quantified financial and non-financial gains before committing capital expenses against an enterprise resource planning project.
Lawson's Opportunity Analyzer also suggests best practices and key performance indicators for particular industry groups, along with benchmarked business processes that a company should implement in order to achieve such desired outcomes as payback and return on investment, Mathur added.
Oracle, Enterprise Apps and Open Source
In Oracle's experience, the attributes and criteria that characterize SMBs and their enterprise software needs are reflected in the impact open source application software has had to date in the marketplace. "The impact of open source on enterprise apps in the mid-market space is negligible. The fact is, open source works great in a tech community where people have the time and inclination to feed the open source — so certainly open source has more impact at the OS and database levels," commented Jeff Abbott, Oracle vice president, global accelerate strategy and 0rograms.
"But for business applications, while open source products exist, we have not seen that as significant competition. People are looking for a more complete solution backed by the strength of a major vendor and the expertise of a local partner," he said.
"We find that there is very little that distinguishes the requirements of enterprise and mid-size customers. They share the same complexities, such as globalization [and] increased compliance and regulation. … The only difference is that mid-size customers are resource-constrained," Abbott told the E-Commerce Times.
Enterprise resource planning may be the "definitive" enterprise application. "It's actually very simple for Oracle to provide enterprise apps to our mid-size customers. We provide the same solutions that a (US)$10 billion customer needs to a $50 million customer," he explained. "Unlike many of our competitors, we do not require that our customers go from a 'small business solution' to a 'mid-size solution' to an 'enterprise solution.' Our [enterprise resource planning] applications are the same across all customers."
The Same but Different
Sharing common core business needs means that both large businesses and those within the SMB sector share common enterprise application needs, but there is a wide range of diversity within the SMB market. Hence, it pays for SMBs to have a comprehensive and detailed grasp of their enterprise-level data and application needs — and know to what degree off-the-shelf software packages meet them. It's crucial to articulate them before putting together a list of potential vendors.
"How flexible is the system in allowing you to model existing processes and, in the future, design new processes? Will your users find the user experience compelling and productive? Does the application integrate well with Microsoft Office and other frequently used applications?" These are questions SMBs need to dig into when choosing enterprise applications, Forrester's Wang continued.
Oracle offers its SMB enterprise application solutions across some 80 market segments. That type of diversity has led SAP to take a multiproduct, multichannel approach to the market, each linked by common architectural and software standards.
Three Tiers
"SAP is not a one-trick pony — we do not believe that one size of solution fits all. Hence, we are addressing [small and mid-size enterprises] with a solution portfolio approach, and are providing a portfolio of three solutions that best fit the unique and individual needs of small businesses and mid-size enterprises," reported Astrid Polchen, SAP global communications and media relations manager.
SAP has a three-tiered line of enterprise solutions for SMBs: SAP Business One for companies with up to 100 employees; SAP ByDesign, the line's latest addition, which caters to businesses with 100 to 500 employees; and SAP Business All-in-One for companies with demand for deep vertical and sub-vertical know-how and up to 2,500 employees.
With customer and tech support critical to supporting SMBs' IT needs, SAP has adopted a multichannel customer support strategy that includes Web, telephone, and direct and indirect extended partner systems — with a different mix according to the particulars of geography, country and individual market demands, Polchen explained.
"SAP has all the tools and can combine them appropriately for the individual market demands," Polchen concluded. "Partners are a key component of SAP's go-to-market approach. Partners are also key when it comes to developing industry add-ons for the SAP SME solution portfolio."