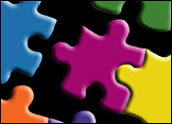 Part 1 of this two-part series introduced the potential perils of selecting an enterprise software vendor. Part 2 looks at the choices businesses make as they go through the selection process.
The going is tough and the competition fierce, but opportunities are out there for small and medium-sized businesses (SMBs) looking to build businesses more global in scope than ever before. A lot rides on their choice and use of enterprise-wide applications — software that supports core business functions across departments and geography — and the vendors that offer and support them.
"Overall, the software application needs of businesses large and small are basically the same. They need to be able to communicate, collaborate and have the right software applications to run their business. These are exciting times when global business models can emerge from these new capabilities," commented Sean Poulley, vice president of online collaboration services at IBM.
Clear Goals and Strategies
Though it varies along with the wide variety of businesses categorized as small and medium-sized, human capital management (HR solutions), financials, business intelligence, supply chain management, mobile applications, inventory planning and production/manufacturing are all areas where SMBs are looking to implement enterprise-level applications, according to Pramod Matur, technology programs director at Lawson Software.
Generally speaking, "SMBs are looking for industry-specific functionality," Matur told the E-Commerce Times. "They are not looking for mammoth, one-size-fits-all [enterprise resource planning] systems, which ultimately become too cumbersome and unwieldy for the organization and users. By offering industry-specific functionality in a package that is simpler to own, implement and use, an ERP system can also promote best practices, user adoption and improved business processes."
The most important thing SMBs should have when it comes to searching for and winnowing out the best-fit enterprise application vendor and solution, according to Astrid Plchen, SAP's manager for corporate media relations and global communications, is a very clear list of requirements. "It's just as important for companies to be clear about the strategic goals of the business and how they would like to support those with a software solution. Projects where IT is deployed more or less independent from the business strategy have a high tendency to fail. This might sound trivial to you but, it's actually not a given in every project."
Nothing but Time
The value of being able to get an effective, reliable and well-focused set of enterprise applications up and running in short order is greater than ever with production and inventory management cycles compressed as a result of greater use of automation, and subject to more and more strictly enforced quality and compliance standards.
"We highly recommend that customers require a demonstration of their [vendor's] rapid implementation methodology," commented Jeff Abbott, vice president of global accelerate strategy and programs for Oracle. "In Oracle's case, we provide a live demonstration of Oracle Business Accelerators. These are our proprietary tools that have decreased implementations time from six to nine months to as little as six to nine weeks. It is this demonstration of these capabilities that gives midsize organizations confidence that Oracle will maximize their time to value. This is often the top concern of midsize companies."
The vast majority of Oracle's SMB customers prefer traditional licensing agreements by user counts. That said, the diversity of licensing models has expanded significantly, to the point where a counter-movement has arisen driven by customers' need to put together apples-to-apples comparisons and their interest in evaluating and administering less complicated, less cumbersome pricing models.
"As heterogeneous as the SME market is, as heterogeneous is also the preference of the individual company when it comes to licensing," SAP's Plchen told the E-Commerce Times.
Platform and Licensing Options
The ability to evaluate and compare licensing, platform and delivery options vendors offer is another key aspect of choosing an enterprise application vendor and solution. The options available to SMBs have expanded, particularly with the emergence and viability of Software as a Service (SaaS) as an alternative enterprise application licensing and platform option, one that has certain attractions and benefits for SMBs vis-a-vis more conventional ones.
SMBs' licensing and platform choices vary from organization to organization depending on their specific needs, according to Lawson's Mathur. "In many cases, traditional on-premise licensing is common, but in certain cases enterprise software can be delivered via SaaS," Mathur added.
"Some companies prefer an on-demand model; some prefer on-premise which corresponds with different pricing. In terms of purchasing there is a clear tendency of SME companies to purchase through companies that are in close proximity — geographically — and know their demands exactly," Plchen commented. "This is one of the reasons why SAP is working with a network of qualified partners who are often specialists in an industry/certain processes and thus speak the language of their customers."
The Value of Good Plumbing
Having an integrated platform on which to run enterprise applications, one where data and information can be shared across applications and the organization, as well as externally, is a distinct advantage. Ease of integration is another important factor SMBs should consider when evaluating prospective vendors and solutions.
While IBM is not an enterprise applications provider per se, relying on its business partners and independent software vendors to provide applications to its customers, its middleware and collaboration platforms are integral to making them run smoother and more efficiently, and hence enabling businesses to derive greater value from them.
"We believe collaborative technology is critical to an SMB playing in a global marketplace because it delivers the ability to grow, while tightly managing the operational cost increases associated with expansion," Poulley told the E-Commerce Times.
With its Lotus Notes and Domino software, IBM was ahead of the curve when it comes to developing collaboration software and the standards-based middleware that enables true enterprise-level applications to function.
Lotus Notes and Domino have been the drivers behind IBM's success in providing middleware and collaboration platforms. Poulley noted how features such as premade templates for discussion forums and team rooms and providing a platform for independent software vendors to build and add their own and custom-built software applications, have contributed to their success in the SMB market space.
"It makes sense for SMBs to use [software] services when it comes to collaborating or interacting with the extranet. The evolution of technologies such as Web conferencing, file-sharing, instant messaging, software appliances, portals offered as SaaS applications will increasingly allow local businesses to transform into global trading partners," he told the E-Commerce Times.
Choose Yourself or Tap Outside Expertise?
Whether to go through the enterprise application vendor selection process on your own or with outside help is another key choice for SMBs. "We see the outsourcing of the software selection more commonly in the enterprise space. Most mid-size customers are deeply engaged in the selection process," according to Oracle's Abbott.
Capital, IT, time and other resource constraints typically mean that "you will find the CEO, CFO and COO of those companies deeply involved in the process. We find this often makes for a much better selection," he said.
Going it alone or enlisting outside expertise varies according to customer preference in the SMB space, offered SAP's Plchen. "There is a high percentage of owner-run businesses in the SME space who tend to want to be involved in such major decisions as buying a software solution. Other companies tend to outsource because they do want to avoid the investment in time that this of course demands. In general, we see that SMEs are only outsourcing this process to a service provider if they have a lot of trust in this person/company."
External help may be of value depending on an SMB's needs and their ability to manage the process, added Lawson's Mathur. "However, whether an SMB chooses an enterprise software provider on its own or through a vendor, they must focus on a few key questions: Does the software provide the industry-specific functionality that the SMB needs? What is the value per dollar invested in the system? What is the potential return on investment? And is the software created to be simple to own, implement and use?"