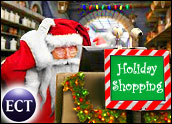 Though opinions are mixed, industry experts and economists expect a reasonably good holiday retail sales season this year despite an economy struggling with higher oil and import prices, decreasing home values and the after-effects of mortgage market problems. Online holiday sales, in particular, should do pretty well, though the outlook is more clouded for sales of high-end consumer electronics products, as Part 1 of this series discusses.
"Even though there is talk of recession, the GDP (gross domestic product) for third quarter 2007 in the U.S.A. was up over 3.5 percent, which was unexpected. This growth, in light of high oil prices, a housing credit crunch and a decrease in housing starts and sales was driven by consumer spending," noted Chip Arndt, executive vice president and cofounder of MerchantAdvantage.
"It is my belief that as the Fed eases interest rates for the last quarter of 2007, we will see that this GDP growth will remain constant with consumer spending leading the drive as the marketplace comes to terms with housing and credit crunch issues. Furthermore, as online shopping and search sites such as eBay, Amazon, Ask.com, Google, Travelocity, Expedia, Orbitz and others increase their off-line spending in traditional forms of media as television, print, billboard, radio and the like to drive consumers online to find products, travel deals and services, this will have a positive residual affect for all online merchants selling products this holiday season," he added.
Going Into the Holiday Season
Shoppers intended to buy less in the way of consumer electronics this year as compared with last year, according to year-to-year third quarter research on consumer electronics purchase intentions conducted by Parks Associates.
"Based on these results, I think that we — along with folks in the economist community — have some trepidation in looking at the holiday season given the credit crunch, home values declining and news about weakness in the economy," Kurt Scherf, Parks Associates' vice president and principal analyst, told the E-Commerce Times.
"I think it is going to be easier for consumers to consider upgrades of products they already own — particularly computers, digital cameras, video camcorders, and music players, as opposed to thinking about a totally new product purchase. After all, the price for the portable devices continues to fall, and you can buy a significant upgrade to cameras — improved megapixels, etc. — for not a whole lot more, or even less, than what people spent on the original product. PC sales should be solid, either because people are finally going to upgrade to a Vista system, or because XP systems will be very cost-effective as upgrades," he noted.
'Tech for Tots' and Other Themes
There are several "themes" that consumer electronics manufacturers are looking towards to make for a happy, healthy holiday sales season. The digital home office and entertainment center are two; the introduction of new iPhones, iPods, smartphones and other handheld devices makes portability a third.
In addition, marketers are also looking at segmenting the consumer electronics market demographically: "Tech for tots" is a product theme that is emerging this year, according to Sandra Fathi, president of Affect Strategies.
"We are starting to see many of the consumer electronic manufacturers expand their demographic targets below the 'teen-tween' line. This generation of parents is much more tech-savvy than its predecessor and it seems only natural to them that their children would have access to digital cameras, music players and games that incorporate technology," Fathi told the E-Commerce Times.
"Many manufacturers are taking classic toys to the next level," she said. "Stuffed animals called 'Webkins' (by Ganz) come with a coded tag that give children access to a virtual world where they can play with the digital version of their new pet online. Funkeys (by Mattel) are collectible figurines that have a USB (Universal Serial Bus) port built-in. When they are plugged into a computer, it unlocks games and quests. Even the diaper crowd is being targeted. MagicIQ (by TinyLove) features a cuddly lamb that interacts with an educational DVD. The lamb talks, sings and narrates parts of the DVD to engage the child."
The Digital Home/Office
Based on online sales data from MerchantAdvantage's "electronic centric" products category, Arndt believes that holiday consumer electronic sales will grow 10 percent year-to-year and come in line with the Consumer Electronics Association's forecast of US$22 billion.
"To complement these positive trends, more online consumers are comfortable with shopping online and as they want to save a few 'gas' dollars and as online merchants offer shipping discounts, I predict these two factors will help push online sales past the year-over-year growth of 10 percent, comfortably. Also, while new to the U.S. consumer, the advent of mobile shopping sites — mPoria, which deals with most major carriers; iSave.com, powering iPhones; and mShopper, powering Sprint — should help add to the online shopping holiday push."
Like Affect Strategies' Fathi, Arndt sees marketers emphasizing certain products for particular age ranges.
"For the younger 15-to-25 set, of course iPods, games, MP3 players, computers and cell phones are the key items. For the 'older' folks who have full-time jobs, flat-screen TVs are very popular and the various accessories that come with it. Now that is the fun side.
"With the advent of home offices, we find that online merchants that market their electronics, or better yet, bundle offerings in ways that help the 25-year-old-plus build their dream home office, they should do well. What is very important to note all across the world is that people are designing their homes to support a 'complete' home office, as they work out of their house or flat, or they want to come home after their long day job to a comfortable 'fun office feel' to have fun online, play games or finish up some work they did not get done at the office," he said.
Interactive Gift Cards
The convenience and freedom of choice gift cards provide have made them popular with holiday shoppers in recent years. This year, the wonders of digital technology offer a new wrinkle: interactive gift cards. Their emergence is one of the reasons why gift cards sales are expected to hit $35 billion in the U.S. this holiday season, according to GiftCard Nexus.
Serious in 2004 invented the first DVD gift card and the company is now working to sell them through partnerships with big U.S. retailers, such as Circuit City and Home Depot, as well as launching them in the UK. Though they look like the standard plastic gift card, the underside is a DVD/DVD-ROM hybrid that can be played in DVD players and drives, as well as PS2, Xbox and Xbox 360 game players.
Serious last month launched a "One United" DVD gift card for Manchester United's official fan club that offers members a variety of exclusive benefits, including purchasing home game tickets and autographed memorabilia, qualifying for member discounts and entering competitions and placing their names on the season ticket waiting list.
"From a provider's point of view, interactive gift cards can be used to track purchases and consumer activity, creating the opportunity to personalize subsequent marketing and promotional information based on consumer preference. Gift cards are no longer solely transactional devices, but have now evolved into digital marketing tools as well," David Brown, CEO of Serious U.S.A., told the E-Commerce Times.
Determining Best Value
The emergence of comparison shopping engines (CSE) and other e-tail product and data aggregators are making it much easier for online holiday shoppers to seek out the best deals and determine what is good value.
MerchantAdvantage supports more than 100 CSEs, from the largest, such as PriceGrabber, Shopzilla and Yahoo Shopping, to smaller and niche CSEs, including PlanetOnline, MyCoupons, PriceForSure and Smarter.com.
"The best way for the consumer to determine the best deals is to use review sites and then 'shop' around. While my merchants might not like to hear me say 'click away' to compare pricing, that is part of the fun and games of online shopping. People learn by exploring and the shopping comparison sites are great places to start and also review sites as Powerreviews.com or Buzzillions.com," Arndt commented.
For e-tailers, particularly smaller online merchants who may not be able to match the cutthroat price discounting that typically occurs during the holidays, creative pricing strategies and delivering excellent customer service are keys to attracting and holding on to good customers and differentiating themselves from the pack, according to Arndt.
"The big boys and girls deluge the marketplace with ad words and advertising, and then usually the lowest pricing as they are volume players. One client I can't name who does very, very, very well actually keeps their margins high by providing the best, and I mean best, customer service," Arndt elaborated.
"This starts with being advertised everywhere and then when you call in from their Web site or e-mail them, the customer simply is treated so well that you want to buy your products from them. I call it the 'Disney or Neiman Marcus effect.' When everyone in your organization understands that at anytime that they speak to anyone, I mean anyone, outside of the company that that person is a potential customer," he added.