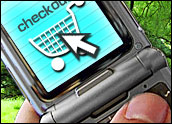 For those aspiring or already doing business as an e-tail merchant, there is no shortage of e-commerce software developers with shopping cart technology for start-ups and small to medium-sized businesses (SMBs). The real difficulty may lie in choosing among them and then putting it to productive use.
To get the most out of shopping cart software, an e-tailer must leverage what it knows about its customers and product offerings and incorporate that into their shopping cart and e-commerce software — something Forrester Research terms "experience-based differentiation."
"Functionality can indeed be standard and commoditized in a variety of businesses types (e.g. SMB vs. Global Enterprises)," Usability Sciences' general manager Eric Feige told the E-Commerce Times.
"What differentiates them from one another is not the functionality, but the businesses intimate understanding of their existing and prospective customer experience and how they leverage that understanding to differentiate," he added.
Enterprise vs. SMB Shopping Carts
The advantage larger enterprises have over small e-tailers is that they are able to conduct usability tests and large-scale online user experience and segment research that helps them benchmark against the competition, according to Feige.
"This gives them an advantage in the marketplace because they are better able to understand the explicit needs of the shopper through their behavior, intent and attitudes. Small and medium-size businesses can also differentiate by customer experience with a smaller investment that certainly will provide a high return on investment," he added.
While experience-based differentiation may be the key to making the most of any chosen shopping cart software, e-tailers nonetheless need to identify key features and functionality and carefully assess all costs before a short-list can be put together and an apples-to-apples comparison can be made.
What to Look for
"If I had to choose one shopping cart feature to look for across all merchants, it would clearly be the ability to interface with other applications," Michael Lambert, CEO and cofounder of Merchant Advantage, told the E-Commerce Times.
The SMB shopping cart or e-storefront software package that offers absolutely everything an e-tailer could want doesn't exist, according to Lambert.
"Some storefront software includes Point of Sale modules, some have marketing modules, some elaborate order management, etc. … But even if the feature is included in the software, the feature may not fit perfectly into the merchant's operational goals," he said.
"In short, merchants will and should be able to select additional software tools to accomplish whatever goals that they have. So any storefront software should easily and flexibly provide it's booty of information to other software applications and tools, and if possible, receive valuable information from external sources," added Lambert.
That said, all shopping cart software should provide the following basic features, Lambert noted:
Pleasant display and easy navigation of a merchants wares
Clear consumer information display for checkout
Shipping options which are clear and accurate
Flexible pay options (Visa/MasterCard, America Express, Pay Pal, Google Checkout etc.)
Needs and Features Assessment
E-tailers' choice of shopping cart or e-commerce storefront software becomes more subjective once the aforementioned criteria have been met.
"After that, the details become more unique based on merchants' needs," Lambert explained. "For example, many merchants focus a great deal of attention on recurring consumers and their storefront software should support methods for re-marketing to existing consumers and allowing consumers to log-in and enjoy special benefits."
Other software vendors' products require a greater degree of interaction, including a variety of options that have varying degrees of utility, such as making various pricing adjustments and SKU (stock keeping unit) alterations within one product. Hence, their product selection pages need a lot of flexibility built into them, Lambert continued.
"Many online retailers are in the business because of their technology background, and therefore may have more stringent technology needs," he said. "Can the software code be modified or customized? Are there embedded points in which to insert code, such as analytical snipits or third-party presentation code? Can the software easily integrate with other chosen tools?"
However, what may be the most important set of features centers less around the shopping cart technology itself than around the business attributes that come with it, according to Lambert. "Does the shopping cart provider bring some consumer traffic to the table? Are there ongoing fees or a one-time purchase price? And perhaps most importantly, does the software company play well with others?"
eShopping Carts — Gratis!
VevoCart is one of many e-commerce software developers offering free shopping cart software to start-up and SMB e-tailers, in this case on built using Microsoft"s ASP.net.
"We understand that getting started in e-commerce requires quite a bit of research. VevoCart has helped e-tailers by providing essential features to start their business quickly. We also encourage SMB e-tailers by providing a fully functional shopping cart that can be used commercially at no cost," explained company director Vince Pichpongsa.
An e-shopping cart "must be user-friendly, responsive, stable and reliable," he elaborated. "The shopping cart must also support a powerful, efficient and scalable database that can be expanded as needed in the future. Lastly, it must be customizable, both in look-and-feel and functionality."
A shopping cart worth its salt should also produce search engine optimization-friendly URLs for its products, he added. "This will help search engines to crawl, index and rank e-commerce sites more efficiently. Then, the e-commerce Web site can get noticed in natural search results."
VevoCart's shopping cart product feed feature sends product information to free and paid shopping comparison networks such as Bizrate, Dealtime, Google and others. The latest VevoCart 2.5 will add support for the Google Base product feed. The company plans to provide comparable product feeds for Bizrate, Dealtime and others in the near future.
Shopping Carts, Web 2.0 and SOA
The emergence and continuing evolution of Web 2.0 and service-oriented architecture (SOA) has dramatically increased the features and functionality available to e-tailers across the board, though those with greater technical experience and resources stand to benefit to a greater degree, noted Usability Sciences' Feige.
"This is good for enterprises that are design-oriented and customer needs-driven in that they can effectively assemble the array of widgets and functions in a way that is useful and pleasing to the user — therefore, a positive impact on the customer experience. Many businesses are not design-focused or user-centric yet eager to quickly launch a variety of Web 2.0 tools without regarding to the end-to-end experience. In these cases the experience is much more awkward and fractured than in previous generations," he said.
For Australia's NetMerchant, developer of the Ezimerchant shopping cart software, the definition of Web 2.0 is "a little hazy; to us, it means two things. First, social/network sites that use the network effect of people to create value, e.g. Flickr and Facebook. Second, it is Ajax-style site developments that bring desktop application style interactivity to Web-based applications. … Ajax style development for shopping carts has and will continue to happen. This will bring benefits to end users as shopping carts can update totals without round trips to servers," managing director Luke Amery told the E-Commerce Times.
When applied to e-commerce, the benefit of social networking sites will come with the user-moderated feedback systems on shopping portal sites, Amery opined.
"Imagine Shopping.com with a review system like Amazon and with a moderation system that allows the good reviews to float to the top. Obviously, this technology is going to happen outside the shopping cart software realm. But like always, the content needs to come from merchants, so the applications with adept catalogue management and ability to publish to feeds that shopping portals accept is going to continue to be a hot issue," he said.
"We see SOA as a different thing altogether from Web 2.0," Amery continued. "SOA is about tying together disparate services to produce a uniform seamless experience that could not be done had the individual services been available only in isolation. … From payment gateway integration to freight price quotations and tracking through to fraud minimization services, a robust shopping cart system needs to be the hub in this SOA fabric; it needs to talk to a multitude of services in a multitude of protocols."
The Bottom Line
At the end of the day, facilitating customer interaction is the key to making use of both Web 2.0 and SOA, added Merchant Advantage's Lambert.
"In the case of Web 2.0, the focus is typically on allowing a surfer to interact when, where and how they wish with interesting Internet information — as opposed to site owners trying to force the information they feel is important to perspective consumers that don't want it," he said.
Moreover, Lambert continued, using Web 2.0 tools enables e-tailers to build into their systems various types of feedback mechanisms that allow the Web surfer to interact with and effectively increase the content value of the site. "It's really a win for both sides of the equation — surfers request what they want, as in RSS (Really Simple Syndication) feeds, requested video content, consumer reviews, etc., and offer their insight, which then enhances the content value of the site owner and keeps the site owners guests happy.
"Short, sweet and simple: It frees up decision makers to use financial, marketing and other business goal-based parameters to decide what systems to use rather than having current system gridlock decide what goals are achievable."