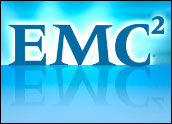 Spurned in an earlier buyout attempt, data storage vendor EMC came back with a US$213 million offer that Iomega accepted Tuesday.
The all-cash deal — a 20 percent increase over a March bid of $178 million — opens the way for EMC to target small businesses and consumers.
The buyout is for $3.85 per share — nearly 6 percent more than Iomega's closing price of $3.64 on Tuesday on the New York Stock Exchange.
It also halts an agreement Iomega reached in December to buy the China-based storage manufacturer ExcelStor in an all-stock transaction. Iomega has paid a $7.5 million termination fee to stop that deal.
EMC shares were down 11 cents, at $14.73, Wednesday afternoon on the NYSE. The stock had yearly range of $13.96 and $25.47. Iomega's shares shot up 17 cents to $3.81 during the same time period on the NYSE. The company's shares ranged between $2.26 and $5.75 in the previous 52 weeks.
'A Good Deal'
"I think they're getting a good deal at a low price," Ian Gilson, an analyst with Zacks Investment Research, told the E-Commerce Times. "EMC has very little low-end market presence."
Hopkinton, Mass.-based EMC plans to complete the tender offer in the second quarter of 2008, subject to regulatory approval. When the deal is done, Iomega will serve as the core of EMC's new consumer/small business products division, which will feature EMC's Retrospect and LifeLine software products.
Iomega CEO Jonathan Huberman will head up the new division. San Diego-based Iomega is perhaps best known for its Zip drive.
"Iomega will play a key role in EMC's strategy to expand our information storage and management capabilities deeper into the high-growth consumer and small-business markets," said Joe Tucci, EMC chairman, president and chief executive officer. "Iomega brings to EMC a deep knowledge of and established business practices for servicing consumers and small businesses," he added.
"Today begins an exciting new future for Iomega and our customers," Huberman noted. "Once the acquisition is final, Iomega will be able to fully leverage EMC's vast assets to grow our business globally."
Expanding EMC's reach into the small-business sector is the goal, he commented. "EMC brings to Iomega a new opportunity for accelerated innovation that will translate into new product capabilities for Iomega's extensive customer base. Through the renowned Iomega brand; thousands of retail, direct marketing and distribution channel partners; and Iomega's talented people, EMC will be able to extend its reach into the high-growth consumer and small-business market segments."
A Growing Market
EMC's strategy is a shrewd one, Zacks Investment Research's Gilson commented. "They have no marketing people in that market — particularly in Europe, where Iomega is very strong. [The small-business market] is a growing market compared to the high-end business market, which is best described as stagnant. So, it's an avenue they need to get into. They have a lot of purchasing power, so they can basically compete in that environment."
It's a "terrific deal" overall and in line with other efforts EMC is making in the small-business space, Charles King, principal analyst at Pund-IT, told the E-Commerce Times. "EMC has a great reputation in the enterprise space, but where the company has something of a lack is name recognition among consumers and small business."
Iomega reported revenues of nearly $337 million last year. "The company is obviously profitable," King commented.
The transaction will likely have no material impact on EMC's yearly earnings, the company said.