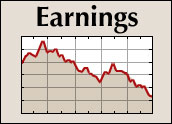 Overhyped expectations caused shares of VMware, makers of desktop and server virtualization software, to plummet after the company announced fourth-quarter earnings that failed to meet investor expectations.
The stock's freefall, which wasn't entirely unexpected, also threatened to hurt its parent company, EMC, which offers software and service solutions for storage and infrastructure management.
Last February, EMC announced VMware's limited initial public offering (IPO), initially selling approximately 10 percent of that stock. The IPO was a boon for EMC, which quickly saw VMware's near-100 percent revenue growth bolster its stock. However, that rapid growth made it an extremely important part of EMC's overall valuation.
VMware's lackluster performance this quarter was cause for concern, although EMC's better-than-expected performance helped mitigate any major problems, said Matt Bryson, an analyst with Boston-based technology research firm Avian Securities.
VMware's earnings report is simply a market correction after its unprecedented growth and not an indicator that either company is in long-term trouble, said EMC Chairman Joe Tucci.
"EMC is well positioned in the areas where IT spending will grow fastest this year," Tucci said. "(Our) focus on innovation and R&D is enabling us to tackle emerging customer priorities such as Web 2.0., virtualization, compliance and new online methods for purchasing and consuming software."
By the Numbers
VMware's total revenues for the fourth quarter were US$412 million, 80 percent above last year's numbers. Still, the company fell short of Wall Street's expected 82 percent growth.
Earnings for parent company EMC fared much better. Its fourth quarter revenues were $3.83 billion, an increase of nearly 20 percent year-over-year. Despite VMware's slowed growth, EMC still managed to beat most Wall Street expectations.
Yet both companies felt the effects of VMware's missed earnings. At midday Tuesday, VMware's stock had plummeted 30 percent from its opening price of $81 and EMC's shares were down 7 percent to $15.50.
Anaylsts were happy, though, to see EMC's stock hold relatively stable as there had been growing concern that VMware had become too large a portion of EMC's overall valuation.
"VMware is down much more and EMC's core value was at such depreciated levels, (today) is a correction of that," said Avian Securities' Bryson. "EMC is re-gaining some value as VMware declines, which is good because there was some fear around VMware's numbers (being) built into the core EMC financials."
Irrational Exuberance
While VMware's stock freefall will affect both EMC and its investors in the near term, the long-term health of the stock price appears good, Bryson told the E-Commerce Times.
The overall effect of the market correction, though, should be that EMC's core business returns to being a larger percentage of its overall valuation, which means the EMC stock should be stronger and VMware more rationally priced, Bryson said.
By the time the fourth quarter earnings came out, VMware's valuation made up approximately $26 billion of EMC's overall $36 billion valuation.
"For EMC, there is no trouble for the core business," Bryson said. "Their core storage business did better than expected. VMware is more (about) expectations getting ahead of themselves."