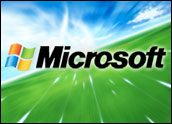 Microsoft announced a soft beta test for software that will potentially give companies a more comprehensive view of how users interact with advertisements.
The Engagement ROI software was built to track whether branding messages convert potential customers into paying customers, in much the same manner traditional advertisers assemble a media plan for print and broadcast, said Tracy Ryan, associate professor of advertising research at Virginia Commonwealth University and author of Advertising 2.0: Social Media Marketing in a Web 2.0 World. By tracking users across the Web, advertisers can create mathematical algorithms that help them create budgets for their campaigns.
Who Clicks on Ads?
These types of behavioral targeting plans focus on people who end up visiting a site not by clicking on an advertisement, but instead passively visiting a company's site. Typically, it works by using cookies to track what Web sites users visit. That tracking information is added to the online media plan to see what type of advertisements — text, video, banners — the user came across, Ryan told the E-Commerce Times.
The test, which begins on March 1 and runs through the end of the second calendar quarter, will be conducted by several advertising companies — including Monster Worldwide, Sprint and GSD&M Idea City — all who are trying to tap into the US$21 billion online advertising market.
"Our Engagement Mapping approach conveys how each ad exposure — whether display, rich media or search, seen multiple times on multiple sites and across many channels — influenced an eventual purchase," said Brian McAndrews, senior vice president of the Advertiser & Publisher Solutions (APS) Division at Microsoft.
The Winds of Change
Microsoft's foray into rich-media advertising analytics comes in the midst of unprecedented growth in the online ad marketplace.
In 2007, online advertising accounted $21 billion in revenues, a growth of 25 percent from the previous year, according to the Internet Advertising Bureau, one of the largest online advertising collectives.
While keywords and search terms continue to drive the bulk of those revenues, companies are also hoping to understand how people follow advertising online and what leads to the purchase of products.
Uniform Measurement
Businesses aren't confined to tracking these measures on computers. Nielsen Media Research just announced its Anytime Anywhere Media Measurement process, which will try to link together streaming video and television habits of people across every device.
The move will allow Microsoft — and other ad-serving networks — to push the growing keyword and search advertising market back toward the rich-media landscape by giving advertisers the ability to create metrics around different types of ads, without relying strictly on click-through rates.
"If you look at Microsoft, they bought Atlas, which has an online media service program," Ryan said. "Their Web site explains in very simple terms how their service operates just like a traditional media plan."