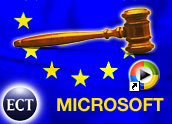 The European Union is looking at Microsoft's vow to commit to openness and interoperability with a jaundiced eye.
The EU's executive branch, the European Commission, will welcome "any move towards genuine interoperability," it said, while pointing out that Microsoft had made "at least four similar statements" in the past on this topic.
The commission also said Microsoft's plans to commit to interoperability "does not relate to the question of whether or not Microsoft has been complying with EU antitrust rules in this area in the past."
Chest-Thumping in Seattle
In its announcement, Microsoft said it will implement four new interoperability principles and corresponding actions across its high-volume business products — Windows Vista, including the .Net framework; Windows Server 2008, SQL Server 2008, Office 2007, Exchange Server 2007, and Office SharePoint Server 2007, — as well as future versions of these products.
The four principles are ensuring open connections; promoting data portability; enhancing support for industry standards; and fostering more open engagement with customers and the industry, including open source communities.
They will "enable third-party products from any source — commercial, open source or hybrid — to interface with Microsoft's high-volume business products the same way Microsoft does," Tom Robertson, Microsoft's general manager for interoperability and standards, told the E-Commerce Times.
The principles will apply to application programming interfaces (APIs), protocols, and document formats and standards, Robertson said.
Already, thousands of pages relating to those communications protocols between the high-volume products and other Microsoft products have been posted on the Web. Information on APIs, together with Microsoft's patents, will also be put up on the Web.
Anyone will be able to access that information "for free without the requirement for a license or anything else so that anyone who wants to know what those protocols are and how they work can study those documents," Robertson added.
However, while reading the information is free, using it won't be. Microsoft is "committed to licensing those technologies to anyone on reasonable and nondiscriminatory terms" if they are a commercial enterprise or an open source organization that is "doing anything commercial with those protocols," Robertson said.
Show, Don't Tell, EU Says
Both the U.S. and the EU have trained their sights on Microsoft for anticompetitive practices over the past 10 years.
The Federal Trade Commission won a ruling against Microsoft in 1999 that was overturned by the D.C. Court of Appeals in September 2000.
However, the EU has been much more dogged, and, last year, it upheld a US$613 million fine against Microsoft, following that up with two new antitrust investigations, one of which was the genesis of Microsoft's interoperability announcement.
The EC will verify whether Microsoft is complying with EU antitrust rules, whether the principles Microsoft announced Thursday are being implemented, and whether such implementation ends any infringement.
The EU still has another antitrust investigation against Microsoft under way — that of tying of Internet Explorer to the Windows operating system — and this is not affected by Microsoft's vow of interoperability.
Openness? Bah! Humbug!
Robertson's comments were restrained by Microsoft's standards: Company CEO Steve Ballmer said it had "shared a lot of information with hundreds of thousands of partners around the world" for the past 33 years, when announcing the move toward openness.
Microsoft's generally self-congratulatory tone left Thomas Vinje doing a slow burn.
He is the spokesperson and legal counsel for the European Committee for Interoperable Systems, or ECIS, an international nonprofit association whose members are Adobe, IBM, Corel, Nokia, Opera, Oracle, RealNetworks, Red Hat and Sun Microsystems.
It was a complaint filed by ECIS that kicked off the EU probe leading to Microsoft's interoperability announcement.
"We have heard high-profile comments from Microsoft a half-dozen times over the past two years, but have yet to see any lasting change in Microsoft's behavior in the marketplace," Vinje said.
Michael Gartenberg, vice president and research director at JupiterResearch, shares his skepticism: "Now we have to see what's acceptable and what nuances may have to be changed by the end of the day."
Chasing Shadows?
Microsoft's announcement is too little, too late, Jim McGregor, research director and principal analyst at In-Stat, told the E-Commerce Times.
"You can say there's a lot of things Microsoft promises that it hasn't done, but the bigger question is, how much longer is it going to matter?" he said.
It is highly doubtful that Microsoft will ever release another full-fledged operating system like Widows Vista because it was "counter-intuitive to the market, putting heavier emphasis on graphics and memory at a time when everything else is going portable," McGregor said.
The key to portability is "reducing power consumption; you don't want to overtax memory, power or the processor," McGregor added.
Nonetheless, he applauded the EU's decision and said more should be done to curb anticompetitive behavior by corporations. "Now, let's agree to create some rules that can be enforced and agreed upon, not just in the EU but worldwide," he added.
Another Possibility
Could Microsoft's announcement be a bid to clear the decks for its battle for Yahoo?
Probably, said JupiterResearch's Gartenberg. "When you're doing a $46 billion merger and acquisition you want to put other issues behind you."
"The whole notion of antitrust has been dogging Microsoft for years, both in the U.S.and abroad," Gartenberg told the E-Commerce Times. "Microsoft clearly wants to do whatever it takes in order to make this problem go away once and for all, and that's what we saw in [Thursday's] announcements."