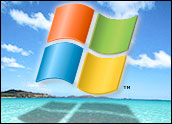 Taking aim at Google, Microsoft is making its Internet-hosted software application services available to businesses of all sizes.
Microsoft Online Services, a hosted-application program that started last year for businesses with more than 5,000 employees, launched its new all-inclusive service as a beta test for U.S.-based companies on Monday. The full product release isn't expected until the second half of 2008.
No Office Functions
The application suite will include Microsoft Exchange Server 7 and Microsoft Office SharePoint server 7, which allows users to access e-mail, calendar, workspace and video conferencing applications through a single Web interface. Unlike traditional software licensing, companies purchase a per-user subscription for the Web-based applications, instead of a CD-based license that must be installed individually on each computer. A special license allows companies to blend uses between the subscription-based applications and desktop applications as well.
"With Microsoft Online Services, businesses can deploy software as a subscription service, from servers they manage on-site or a combination of the two, depending on their specific needs," said Microsoft Chairman Bill Gates. "In the future, customers and partners should expect to see this kind of choice in flexibility for all of Microsoft's software and server products."
The Google Threat
Microsoft's move into the Software as a Service (SaaS) market, though, has less to do with reaching out to small businesses. The company is facing down a potential threat to its licensing program from Google, which sells its Google Apps enterprise software for US$50 per year, per person.
The Apps product combines Gmail, Google Talk, Google Calendar and Google Docs, along with an application programming interface (API) and access to a collaborative workspace for employees. The product — which much like Microsoft's Online Services lacks a serious Office-like component — hasn't made inroads into the enterprise market as of yet, but companies are beginning to look for Microsoft alternatives, Matt Cain, lead e-mail analyst with Gartner, told the E-Commerce Times.
That leaves Microsoft with a short window to stave off competition from Google in the enterprise software market, which has traditionally been the sole proprietorship of the software giant.
If Google can roll out a full suite of services in less than two years, the company would be primed to take on Microsoft in the enterprise arena, Cain commented.
Price Pressure
"If you're Microsoft, your worst nightmare is that Google has the equivalent of what Microsoft has had and it's only $50 per year," said Cain. "Google is out there and they are going to put tremendous pricing pressure on this market. And for Microsoft, the problem is now that the price cellar is $50 per year."
Microsoft's ace in the hole, Cain noted, is that Google may not be able to roll out a full suite of Office-competitive products in that short time, giving Microsoft the ability to flesh out its Web-hosted software platform. However, Gates and company haven't announced when — or if — the Office products will move to this platform.
We're speculating they're going to come out with [Office]," said Cain. Ultimately, they have to come out with that if they are going to compete. But we have no idea when they are going to do it."