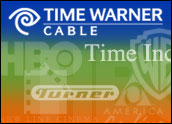 Amid solid earnings that hit analysts' marks, Time Warner announced on Wednesday that it would radically restructure — and possibly sell part of — its AOL Internet service provider division, ending a tumultuous experiment between the old and new media stalwarts.
Overall, Time Warner's revenues grew slightly to US$46.5 billion, spurred on by its cable, filmed entertainment and network divisions. The earnings were on par with analysts' expectations, and the company predicts a 9 percent increase in earnings in 2008.
However, the company saw a sharp drop in both its publishing and AOL divisions, with revenue declines of more than 30 percent for each. The diminishing returns — particularly with AOL — prompted Time Warner CEO Jeff Bewkes to announce plans that may include splitting AOL into three parts: the online advertising division, an online Web portal and the ISP service.
"We'll make sure Time Warner has the right businesses in the right structure," said Bewkes. "And we'll actively manage our balance sheet to deploy capital to the best advantage of our stockholders. In change lies opportunity, and I have great confidence in our future."
AOL's Fading Star
The changes Bewkes plans would be a complete overhaul of AOL, once the premier Internet service provider and the driving force behind the $164 billion merger between the two companies in 2000.
In recent years, AOL's fortunes have declined as broadband cable and DSL services driven by increased demand for audio and video online lured subscribers away. In just the last year, AOL's revenues declined 33 percent, driven in large measure by a 52 percent decline in its subscription services.
With no near-term solution to the subscription decline and the rapidly changing online advertising landscape, Bewkes may jettison the ISP service entirely and bolster the portal and online advertising services. That move would position AOL to compete with Google, Microsoft and Yahoo, said Fred Singer, a former AOL executive and current CEO of Washington-based Anystream, a broadband distribution platform provider.
Chasing the Dollar
The current business landscape for online media companies isn't in ISP services and original content; it's mixing user-generated and original content, building an audience and selling advertising across that network, Singer told the E-Commerce Times.
"About two years ago, all the major Web companies realized they couldn't grow their portal services and keep up with the Long Tail," Singer said. "They found it's cheaper to try to monetize other people's content."
The problem for Time Warner is that Google, Microsoft and Yahoo already have a big lead in this area.
Google is the market leader with its AdSense advertising service, while Microsoft is actively trying to purchase Yahoo so it can better compete. That potentially creates two huge competitors for Time Warner before it even begins restructuring.
The good news: The online advertising market is growing rapidly, on pace to reach $20 billion in 2007, an increase of approximately 25 percent from 2006, according to the Internet Advertising Bureau.
"You have two big competitors already in the race, but it's a pretty big market. You don't need to be the biggest player to have a really great business," Singer said.