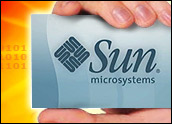 Sun Microsystems announced a US$34 million loss in its fiscal third quarter as the company continued to repurchase its stock, reinvest cash in the business and pursue acquisitions and expansion in emerging markets.
That's a steep drop from the $67 million the company made in the same quarter in 2007. The company also announced thousands of job cuts.
The loss came as the company aggressively implemented cost-saving measures, pursued the service provider model, acquiring open source MySQL for $1 billion in February and expanded overseas, reporting net gains in 12 of the 16 territories the company has a presence in.
Diversifying its business has become important for the company's long-term success since its clients are generally not high-tech firms, a growing concern for Sun as the U.S. economy continues its downward spiral.
"The U.S. economy presented Sun with significant challenges in the third quarter, masking our progress in developing nations and economies across the world," said Jonathan Schwartz, CEO of Sun Microsystems. "We continue to invest in the future created by open alternatives to proprietary technologies, best exemplified by the acquisition of MySQL. The world is moving to open source innovation, and Sun continues to lead that revolution."
Bigger Tech Problems
Sun's troubles may be indicative of a larger financial problem facing the high-tech markets, Edward Clarke, founder of the Baton Rouge, La.-based Lohengrin Group, a financial and investment firm, told the E-Commerce Times.
The rate of technological adoption is slowing now that computer-based applications have become near ubiquitous in every aspect of American life. The challenge for most companies, particularly mature ones such as Sun, is less about innovation these days and more about fighting to retain its customer base while poaching customers from competitors.
That strategy is more akin to manufacturing, where margins can be notoriously low.
"There is a factor in the technology sector that as capacity has increased, prices have gone down," said Clarke. "[In] the entire technology sector, the margins are smaller and smaller because the power is greater and greater. If your margins are getting squeezed every year, you are going to have to run faster and faster to stay in one place."
Sun Spots
For Sun, the squeeze on its margins has forced the company to make serious cutbacks, including cutting nearly 4,000 jobs since 2006 and putting several cost cutting moves meant to slice $150 million in spending.
Friday's announcement sent Sun's stock price tumbling nearly 4 points in late-day trading, marking its 52-week low.
Sun's relatively stagnant growth — along with its low stock valuation — indicates the company will likely hunker down for the immediate future, attempting to shore up its core businesses, Clarke said.