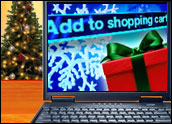 The holiday shopping season is upon us. Import prices are up as the U.S. dollar continues its descent, oil prices are hitting record highs, and the American economy is still struggling to absorb shocks from mortgage market problems, falling home values and tighter credit conditions.
Given a backdrop of rising inflation and a slowing economy, what are e-commerce experts expecting from this holiday season? Though opinions vary, the outlook seems to be fair — even better than you might expect, particularly when it comes to online sales of high-end consumer electronics.
More than half of U.S. consumers will purchase one or more gifts online this year, "a number that creeps steadily higher each year," according to Steve Koenig, senior manager, industry analysis, at theConsumer Electronics Association.
"The value mindset of online holiday shopping definitely plays a role here," Koenig told the E-Commerce Times. "I can't comment on high-end CE versus other high-end goods, but I would expect high-end CE to get even more of an online boost during the holidays compared to lower-priced CE products."
There seems to be less optimism when it comes to holiday retail sales of electronics overall, however. The economic slowdown and the lack of an "exciting, must-have electronic gadget" leads Bruce Huhmann, an associate professor at New Mexico State University's College of Business, to expect that sales of electronic goods will be lower this year than in previous years, though some products — including Apple's iPhone and new iPod touch — are likely to be exceptions.
"Higher-end consumer electronics sales will especially be hard hit as prices continue to drop on flat screens and HDTVs (high-definition television sets) due to heavy price competition from discounters such as Wal-Mart," Huhmann told the E-Commerce Times.
Holiday Sales Projections
Global consumer electronics industry revenues will surpass US$600 billion in 2007, according to research conducted in nine key national markets by the CEA and Germany's GfK. Retail mobile phone sales are expected to approach the 1 billion mark, sales of televisions are expected to reach nearly 200 million, and sales of computers will exceed 100 million, according to the report.
"Mobile phones, televisions and personal computers currently account for more than half of global CE revenue," said Tim Herbert, senior director of market research at the CEA, "but as other countries continue to adopt newer products, the global CE product mix will shift to include digital imaging and portable entertainment."
More than a quarter of a given year's retail sales typically occur — and a third of profits are earned — during October, November and December. Holiday retail sales can account for 40 percent or more of some retailers' annual totals. Roughly 10 percent of annual retail sales take place during the long, post-Thanksgiving weekend alone.
Holiday sales trends have significance beyond the retail industry, for they affect the economy as a whole, Huhmann noted in his 2007 holiday retail sales forecast for New Mexico Business Outlook.
"Holiday sales are a good predictor of where the economy is headed in the coming year," he wrote. "Strong holiday sales tend to strengthen and lengthen economic expansion in the coming year, but weak holiday sales tend to dampen and shorten any economic expansion."
The High-End CE Market
Consumer electronics typically make up about 35 percent of overall holiday sales. Although higher-end consumer electronics are a smaller percentage of overall holiday sales, they are "an important barometer of consumer confidence," noted Huhmann.
"Parents are more likely to agree to cut spending on gifts for each other than cut spending on gifts for their children — higher-end consumer electronics are a common gift for dad," he pointed out.
"Also, young affluents purchase higher-end consumer electronics, especially portable electronic devices that allow them to be in-touch or enjoy entertainment on the go," Huhmann observed. "These young affluents are often lower on the corporate ladder. So, when the economy slows down, they feel it in smaller bonuses, commissions or earnings before older affluents, who are less likely to purchase higher-end consumer electronics."
Relatively affluent early adopters willing and able to pay top price for the latest equipment, and gadgets are typically key drivers of higher-end consumer electronics sales, Huhmann continued.
"The disadvantage for merchants of higher-end consumer electronics is that prices and technology change rapidly," he said. "They must be very careful in inventory-planning, or they risk being stuck with items that they cannot sell at a good profit margin or may even have to sell at a loss. The advantage for merchants of higher-end consumer electronics is that the per-unit contribution to profits is often greater, because purchasers of higher-end consumer electronics are more style- or technology-conscious than price-conscious."
Making His List
Although overall retail holiday sales are likely to fall this year, the online sales component will increase to around 30 percent of the total, Huhmann predicted, as shoppers continue to become more familiar and comfortable using the online channel and e-tailers offer a variety of incentives, such as free shipping.
"Also, the variety and assortment of gifts available on-line is much greater," he added.
What consumer electronics are likely to top holiday shoppers' lists this year? Smartphones — including iPhones — and portable devices, such as MP3 players and video players, will be hot sellers, according to Huhmann.
"The market for them is not yet saturated," he explained, "and consumer demand among teenagers and young affluents is particularly high for these items."
The latest laptops are likely to be popular with holiday shoppers this season as well — especially as prices for small portable digital equipment continue to decline, said John O'Hara, area vice president for consumer products at Absolute Software.
"Computers have become an integral part of the world we live in. We use them at home, work, school — for information, communicationand entertainment. As a result, portability has become increasingly important, if not a necessity," he told the E-Commerce Times.
High-Tech Stocking Stuffers
The best-selling items are often accessories tied to more expensive purchases, noted Chip Arndt, cofounder and executive vice president of business development at MerchantAdvantage.
"One of our clients reminds us that sometimes the best success is selling a flat-screen TV for a 'reasonable' margin to capture the client — and then up-sell them on all of the 'goodies' that go well with a wonderful TV purchase," he told the E-Commerce Times.
"This includes video recording devices, cables and the highest-margin items — mounting products and tables to put the TV on. This analogy carries over into building a home office. No one just buys a computer and works on the kitchen counter anymore. They are building self-supporting media/business/entertainment areas in their homes."
That — and concerns about laptop theft and the security of private, confidential information — may drive healthy holiday sales of such products as tracking and recovery software and other security software applications and tools: antivirus software, encryption solutions, antispyware apps and firewalls.
"If there is any backlash to spending, I think that electronics will do well into the holiday season and other types of products sold online — such as garden equipment, tools, high-end clothing, bath products and home accessories — will suffer the brunt of an online shopper wanting to conserve money," Arndt opined.
"The main reason is that electronics are fun, and everyone wants the next best thing — at least that is how U.S. consumers usually act," he concluded. "There is perceived and real ongoing value to having electronics."
High-End CE Sales Online, Part 2: New Shopping Tools and Trends