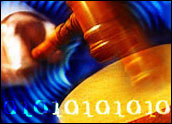 New laws and regulations inevitably follow massive and profound technological changes as societies come to grips with how new technologies may be used.
Given the extent of changes the Internet has fostered across nearly every aspect of modern life, it comes as no surprise that innovations dealing with Internet-related technologies are proving very fertile ground for innovation in the form of new laws, regulations, legal precedents and interpretations of existing law.
So far, courtrooms have seen legal topics related to the Internet covering freedom of speech, national security, terrorism, fraud, censorship, intellectual property, patent law, privacy rights, telecommunications, copyright, contract and commercial law. It seems technological innovation will provide more than enough to keep Congress, the executive branch, attorneys, judges and the wide range of others involved in legal work busy until at least the next generation.
Copyright Infringement Dominates
Whether it's bringing Internet service providers (ISPs), P2P (peer-to-peer) services or individuals to court, the music and film industries are perhaps the leading sources of legal actions dealing with the Internet, much of it related to copyright infringement.
One of the most recent high-profile cases is the music industry's effort through the Library of Congress's Copyright Royalty Board (CRB) and its nonprofit agent SoundExchange to raise royalty rates to a point that independent webcasters say threatens the viability of Internet radio as we know it.
Urgent public and congressional appeals by independent webcasters brought a temporary, last-minute reprieve earlier this month when U.S. Rep. Edward D. Markey, D-Mass., brought the two sides to the bargaining table in front of the House Committee on Energy and Commerce. This set the stage for a deal in which SoundExchange agreed not to enforce the new rate structure.
Instead, SoundExchange is proposing a new rate structure that would cap an annual US$500 per channel minimum fee at $50,000 for webcasters in exchange for them providing more detailed data on the music they play and make efforts to stop unauthorized stream-ripping.
In addition, SoundExchange is considering allowing small webcasters to continue paying royalties under the existing rate structure until 2010. SoundExchange is holding larger webcasters to the new rate structure and its flat per-song, per-listener fees, but also capping the annual per-channel charges.
Independent music webcasters would prefer having the blade hanging above their heads removed completely. That could happen if the Internet Radio Equality Act makes it through the legislative process.
The act, which now has more than 100 cosponsors, was introduced by Rep. Jay Inslee, D-Wash., and Sen. Ron Wyden, D-Ore. Among its five major provisions, the act would nullify CRB judges' recent decision not to review the new royalty rate structure.
New Discovery
Copyright infringement involving digital film was also at the center of a precedent-setting ruling in the 9th Circuit Court of Appeals in May. In the case of Columbia Pictures Industries v. Justin Bunnell, Central District of California Magistrate Judge Jacqueline Chooljian ruled that data contained in a computer server's random access memory (RAM) — specifically, the TorrentSpy service — is "electronically stored information" for purposes of a rule — included in the Federal Rules of Civil Procedure — that is part of a set of civil law procedures governing discovery of electronically stored information that was introduced last year.
The judge ruled that the defendant should begin logging the contents of certain servers' RAM and producing their logs. Chooljian's ruling "raises potentially endless legal and metaphysical questions by opening the door to discovery of data in RAM," according to Clifford Davidson, an associate in the Los Angeles office of Proskauer Rose.
"It is important to note that Judge Chooljian limited her ruling to the facts of the case before her. The Federal Rules require all companies that reasonably anticipate litigation to preserve potentially relevant documents and electronically stored information," Davidson told the E-Commerce Times.
TorrentSpy's motion to review Chooljian's ruling is due to be heard Aug. 23 in district court.
"Among other things, TorrentSpy contends that the ruling requires TorrentSpy to create records for purposes of responding to discovery that would not exist but for the order to create them — something the Federal Rules ordinarily do not require; that the ruling requires TorrentSpy to violate the law of the Netherlands, which is where TorrentSpy's servers are located; and that the ruling violates the First Amendment rights of TorrentSpy's visitors," Davidson summarized.The Electronic Frontier Foundation (EFF) has submitted an amicus brief in support of TorrentSpy's motion, he added.
"If the district court judge affirms Magistrate Judge Chooljian's ruling that RAM is electronically stored information and therefore a 'document' for purposes of the Federal Rules, a P2P or Web service provider that anticipates litigation and that has potentially relevant materials stored in RAM will be required to preserve those materials. The question of whether logging is required is a separate issue that also must be addressed by the District Court," Davidson explained.
Searching for Clarity
Earlier this month, the EFF filed another amicus brief in another precedent-setting ruling in the 9th U.S. Circuit Court of Appeals requesting it to review a ruling in a housing discrimination lawsuit brought against Roommates.com by the Fair Housing Council of California's San Fernando Valley and the Fair Housing Council of San Diego.
A three-judge panel ruled that Roommate.com could be held liable for the activity of its users because it "suggested, encouraged or solicited" and then sorted and categorized content that may have violated fair housing law, according to the EFF.
"Section 230 has been uniformly interpreted as a firm decision by Congress to adopt a non-regulatory approach regarding online information intermediaries. The language of the statute and the legislative history supports those determinations," EFF staff attorney Matthew Zimmerman told the E-Commerce Times.
"As we state in our brief, the 9th Circuit ultimately expressed a different policy preference than the one articulated in the statute by Congress, and that's simply not a legitimate basis to deviate from the statute," he said.
The ambiguity of the ruling in terms of the ramifications for other search engines and customized search service providers is the problem, according to Zimmerman.
"The statute of the language is clear, and the court's decision throws that clarity in doubt. Specifically, the court's finding that 'channeling' and 'limiting the distribution' of information could open providers of Web services to liability seriously jeopardizes the ability of these providers to improve the accuracy and customization of their services, not to mention puts their current offerings into jeopardy," he said.
Jurisdiction Over Internet Telephony
The Federal Communications Commission (FCC) has taken a go-lightly approach to extending its jurisdiction over Internet telephony. However, that is likely to change with accelerating adoption.
"I think the FCC seems to be leaning toward asserting jurisdiction on Internet telephony. The FCC, in its report to Congress on universal service, concluded that full regulation of Internet phone service as telecommunication common carrier was not advisable, but a full examination of Internet telephony is needed to establish a regulatory framework for this industry," attorney Martha L. Arias, director and senior editor of IBLS (Internet Business Legal Services), told the E-Commerce Times.
The FCC has given an indication of the services they may consider falling within their jurisdiction over telecommunications, Arias explained.
"For instance, the backbone services provided to ISPs appear to be telecommunication services according to some news releases from the FCC; they also stated that the phone-to-phone Internet telephony service (not computer-to-computer service) appears to be a telecommunications service as well," she said.
The FCC last year was considering requiring Internet phone companies and wireless service providers to contribute to the Universal Service Fund, which subsidizes phone service for low-income and high-cost consumers, she added.
"As you may see, these may be baby-steps, but they are undoubtedly pressing forward," Arias said.