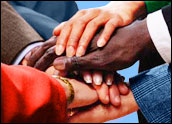 There are approximately 20 million small businesses in the United States. Even for a large firm, finding the right person for any given job can be like finding a needle in a haystack. When you're a small business, finding reliable and affordable talent can be even more difficult.
Filling that niche formed the basis for the business plan of startup company nineMotion Systems, an online services marketplace that builds business relationships while minimizing risk. With a background in the service industry, Deepak K. Vinchhi, cofounder and CEO of nineMotion, was convinced that his new company could offer a service that did not exist for companies with less than 100 workers.
"We didn't want to offer traditional methods used by big companies. We wanted something new," Vinchhi told the E-Commerce Times about the kind of new company he and his cofounder, Vice President Bala Girisaballa, had in mind.
What It Does
nineMotion matches a small company's need for specific job skills on a project-by-project basis with its database of service providers. While its marketing focus is the U.S. small business turf, many of the service providers are located in India.
The startup is gradually adding more U.S.-based providers, according to Vinchhi. In addition, providers in 18 other countries help with translations and other language-related job functions.
Three professional areas are available to nineMotion's clients. The company specializes in providing software developers, graphics and animation experts and writing and translations talent.
Whatever profit it makes comes from charging 5 percent of the inclusive project value. This includes the usage of all nineMotion tools and systems. There are no subscription fees for providers to showcase profiles on the company's Web site, nor are providers charged a monthly fee. The company also provides a payment calculator for customers to figure out their costs of doing business.
The Service
nineMotion's goal is helping small companies connect with the right provider in the most efficient way available. It relies on referrals through an extensive network of service providers it has developed.
The delivery is different from what other service-finder companies offer. Buyers and sellers need to cooperate from the first encounter. nineMotion helps small business executives do just that by watching their progress and giving them project-management tools.
"They need control on their project. We provide tools to plan and communicate. This minimizes their risk in a cost-effective manner," Vinchhi explained.
The use of what he calls "domain-specific tools" helps to build strong relationships by providing checks and balances to both the hiring company and the hired provider.
Flat World Concept
The idea took root when Vinchhi was living in his native India in 2005. Girisaballa was working at Oracle in the U.S. They both had a common experience in reading a book called "The World Is Flat: A Brief History of the Twenty-first Century" by Thomas L. Friedman. This book presents an analysis of business globalization at the start of 21st century. The premise is that the business world is a level playing field where all competitors have an equal opportunity.
"That book had a big influence on us. It is all about how the business world is becoming globalized. The large companies already had a flat world," Vinchhi explained.
What he and Girisaballa wanted to do was help small companies achieve that same kind of flat world.
Defining Moments
For Girisaballa, the last three years brought life-changing events his way. He recognized the power of the Internet to hold peoples' lives together. He was separated from family and friends in India while he worked in the U.S.
"All the time I was in touch with friends and contacts over the Internet. I realized that people and companies do not have to be limited to seeing and touching," Girisaballa said.
For him, that realization was the light bulb that showed the two entrepreneurs what they needed to do.
Early Efforts
Both business partners began to investigate what small businesses needed. They discovered that the two of them were essentially in the same predicament.
By trial and error, Vinchhi and Girisaballa used the same methods that became the tools they now offer to their clients.
"We ate our own dog food," Vinchhi quipped.
nineMotion had its roots in doing its own market research. The cofounders collaborated with multiple companies and developed its own product offerings from what it shaped in birthing its own launch.
The Challenge
The fledgling company, based in California's Silicon Valley, maneuvered a limited launch last fall. It needed a critical amount of new clients to stay in business.
The cofounders plotted a course that steadily built a list of users of its services. They spent the half year getting more clients to use their services.
Along the way, nineMotion employed 12 to 15 people, half of whom are contracted service providers rather than actual full-time employees.
Next Hurdle
"Our biggest challenge is reaching critical mass. That, for us, means having several hundred projects ongoing," Vinchhi said.
He is encouraged. So far the company is averaging about 35 projects.
He and Girisaballa are building a community of clients by word of mouth. Then they will scale their operations to accommodate that level of business. They plan to branch out into Europe in the near future.
Client Feedback
nineMotion's founders are dedicated to the idea of marketing by word of mouth. A small business itself, the startup has to rely on satisfied customers and repeat clients.
The cofounders said they are confident success will come with one satisfied customer at a time.
"Using nineMotion, we were able to find the right professional to complete a time-sensitive software development project," Ashish Deshpande, CEO of Frevvo, told the E-Commerce Times. Deshpande's company is based in Connecticut and provides software products for enterprise applications.
"In less than 24 hours we had several high-caliber professionals to select from based on experience, price and deadline."