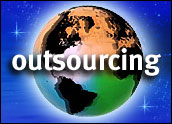 2008 may be the year the outsourcing function or process in a business becomes as standardized and mainstream as, say, accounting or human resources.
Outsourcing, of course, has been an integral part of the global economy with countless firms handing off to third party providers their contact center operations, payroll, manufacturing and even research and development. These trends have been met with equal parts revulsion (as jobs are lost) and admiration (as companies become even more globally competitive). Love outsourcing or hate it, though, the missing factor up until now has been the recognition that it is a corporate function and a profession in its own right.
A Mature Practice
Now, as outsourcing becomes a "mature" practice, that recognition is gaining increasing currency in all circles, according to Michael F. Corbett, chairman of the International Association of OutsourcingProfessionals (IAOP).
"Outsourcing is maturing in every dimension. We are seeing more firms seeking out certified professionals to lead their efforts, as the decision making becomes more complex," he told CRM Buyer.
New Trends
The decision of whether and what to outsource has never been an easy one, but in the past it often was based on cost-cutting factors or some sort of trade-off or arbitrage. New trends in the economy andamong consumers, though, have introduced an added layer of complexity to the decision-making process.
The good news for companies is that while there are new considerations, there are also greater benefits tobe realized — especially as becoming a global company is no longer an option but an imperative.
More firms are embracing socially responsible outsourcing. A lot of companies were taken aback by the backlash against their earlier outsourcing decisions, Corbett said. After a period of resistance among some firms, many have come to view these protests in a different light.

"We will see a lot of companies this coming year stepping forward to say that while they have to be competitive in a global economy, social responsibility is equally important."

Chief outsourcing officer? While IAOP isn't predicting — yet — that this new corporate title will join the standard list of CEO, chief operations officer, chief information officer and chief technical officer in most companies, it is clear that the outsourcing profession is becoming, well, more professional.

There are more than 150,000 professional involved in the US$6 trillion global outsourcing industry now and these numbers are only expected to continue to grow, it said.

"The C-level suite is recognizing the importance of outsourcing," IAOP Managing Director of Thought Leadership Jagdish Dalal said. "More and more outsourcing professionals will sit at the executive table with senior executives and define the very shape of business."

Recruiting efforts will intensify. Outsourcing service providers have become significant employers in their own right and this trend will accelerate as these firms compete more fiercely for talent. It is another reason why outsourcing is not as much of a cost-cutting measure as it has been in the past. Even in emerging economies, the cost of management is rising.

"The global talent wars will further widen the economic gap between the cost of talent management and expected cost baseline," Dalal said.

A wider selection of service providers is available to companies. In a bit of irony sure to delight the industry's detractors, overseas-based outsourcing firms have become very competitive with their U.S. service company counterparts. Such foreign companies as TCS, Infosys and Wipro are now seen to be on par with such top U.S. companies in this space as IBM, EDS, CSC and Accenture.

IAOP points to its annual ranking of the world's best outsourcing service providers, Global Outsourcing 100. For the past two years IBM was at the top of the list, but its position may one day be threatenedby the India-based companies that are rising in the top 10 ranks.