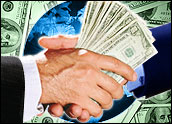 Information systems and outsourcing giant Electronic Data Systems (EDS) will buy a controlling interest in Saber Holdings, a firm that provides software and services to government agencies across the country.
EDS will pay US$420 million in cash for the 93 percent stake in Portland, Ore.-based Saber, with the software firm's CEO and chief operating officer retaining the remaining ownership stake.
The 10-year-old Saber has more than doubled its revenue in each of the past three years, based on the strength of its solutions aimed at helping state and local governments better serve the public, EDS said.
Expanding Offerings
The acquisition will enable EDS to expand its offerings to its own government clients and sell more services and software to Saber's existing client base, which includes scores of state and local governments from coast to coast.
"This transaction creates a growth opportunity for EDS … and is consistent with our strategy to move aggressively into higher-value application services," said Joe Eazor, EDS executive vice president, corporate strategy and business development.
Key drivers of the acquisition include Saber's application portfolio, geographic reach and "deep understanding of government technology needs," Eazor added.
EDS shares rose a half a percent to $20.16 in morning trading Tuesday.
Applications Aplenty
Saber's menu of applications includes plug-and-play systems and customizable software that governments use to automate functions such as voter registration, election management, public retirement programs, human services, public health services, motor vehicle registration and unemployment insurance.
EDS and Saber have collaborated on projects in the past, with EDS providing training and outsourcing support to the same clients that use Saber's applications.
Saber CEO Nitin Khanna and President and Chief Operating Officer Karan Khanna will continue to lead the company after the deal closes, EDS said.
EDS sees extensive room for growth in the government IT services market, which generally lags behind the private sector in terms of technology adoption and investment and where many systems are rapidly becoming outdated as a result. Government research firm Input estimates governments will spend $50 billion on information technology in 2007 and that the market is growing at an annual rate of 8 percent.
In 2006, EDS gained 16 percent of its total revenue, or about $3.3 billion, from government clients.
Transformation Underway
EDS has been reinventing itself to capture more opportunities in the business process outsourcing (BPO) arena, including selling its main software business line, UGS PLM Solutions, to a cadre of private equity firms in 2004 for more than $2 billion. In turn, it has purchased BPO firms in India and elsewhere.
EDS has been among the first of the major outsourcing firms to begin posting strong growth again recently, Gartner analyst Martin Lee told the E-Commerce Times.
"The challenge for EDS and other outsourcing providers is that customers are looking for more than just cost savings," Lee said. "They are looking for their outsourcing partners to add value in other ways as well."
In the quest to provide that value, EDS faces off against the likes of IBM, HP and other tech giants as well as onetime specialists such as EMC that are eager to expand their services offerings.
Catching Up in Emerging Markets
EDS had been relatively slow to embrace the offshoring trend and was a late comer to markets such as India and China, but has invested heavily to catch up in those markets more recently, sinking $50 million in China and buying established outsourcing firms in India, IDC analyst Eugene Wee told the E-Commerce Times.
Though Saber's customer base is now mainly in the U.S., its services and applications could become in-demand in overseas markets as well as those markets demand the same automation and modernization upgrades.
"There are a lot of companies and agencies in China and elsewhere overseas that are growing too fast to handle their own IT expansions," Wee said. "That is a ripe market for all the outsourcing firms going forward."
The move comes as EDS appears to be executing better after a couple years of disappointing earnings results. Earlier this month, EDS posted net earnings of $225 million on $5.63 billion in revenue, beating analyst estimates. The Saber deal will not materially impact the company's bottom line in 2008 but contribute modestly to its cash flow, EDS said.