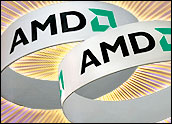 AMD on Monday launched a new line of PCs targeting small and medium-sized businesses (SMBs).
Through its business class initiative, the chipmaker aims to provide desktops to customers stuck between consumer PCs and enterprise-class systems.
"Often, SMBs don't need all the higher level performance [in an enterprise-class PC] that comes with a higher price, but also need something that's going to be more in terms of reliability and capability than a consumer product would be," said Ray Boggs, an analyst at IDC.
No More Settling
Finding machines that meet their business needs can be a problem for small businesses that often may not realize that there could be something in between consumer and enterprise PCs.
"They felt like they had to settle or pay more for enterprise-grade ability," Boggs noted.
In attempting to close the gap between enterprise-class workstations and consumer-level PCs, AMD Business Class products focus on factors such as value, power savings, longevity, security and stability.
The new AMD Business Class line will offer a variety of configurations and include a new series of commercial stable processors such as native Phenom X3 triple-core and Phenom X4 quad-core processors along with AMD's Athlon X2 dual-core processors.
OEMs can also choose either the AMD 780V chipsets or optional ATI Radeon HD 3000 series graphics processors or non-AMD graphics and chipsets.
"This really lets the SMB customer sit at the grownup's table in terms of performance. Here's hardware that will definitely support [new software and] Windows Vista," Boggs pointed out.
AMD said its Business Class technology enables commercial desktop platforms to feature up to 24 months of image stability across the platform. "That becomes very critical because a small business owner is more likely to keep machines longer than might be typical in a larger enterprise [where PCs are turned over] maybe every two years. [In] a small business, you may keep the same machine for three years, five years, even beyond that. The standard among smaller firms is you just keep the stuff forever until it breaks or until the repairs are too expensive," Boggs told TechNewsWorld.
The SMB-class machines will be available from a variety of PC makers including Dell, HP, Lenovo, Acer, and Fujitsu/Siemens. Initial offerings include HP's dc5850 and dx2450, Fujitsu Siemens' Esprimo E/P56254 and a refresh of Dell's OptiPlex 740.
HP introduced the Compaq dc5850 Business PC Monday.
Another Front in the Chip War
Faced with a juggernaut rival in Intel, in recent years, AMD has not fared well in the commercial PC market, explained Benjamin Gray, a Forrester Research analyst.
"Companies often choose AMD for its lower initial acquisition costs, although [they're] sacrificing performance to get there. This approach of narrowly undercutting Intel has not worked well for AMD, as it has now seen six straight quarters of net loss," Gray told TechNewsWorld.
With the AMD Business Class initiative, the chipmaker has launched a renewed effort to better compete in the commercial segment in both desktops and laptops, he said.
"Targeting SMBs, the public sector and larger enterprises, AMD Business Class is its renewed focus on a historically weaker area than the consumer market," Gray noted.
With new processors, AMD will try to keep pace with Intel's green IT initiatives with Energy Start 4.0 compliance, he added.
"This will certainly be an effective boost. You can see already with the OEM interest that it is finding resonance within that community, and the assumption is it will definitely resonate with customers," Boggs said.
"It is definitely an exciting time for both AMD and Intel. They are under a lot of pressure to deliver the goods, and this looks like the right product at the right time," he added. "[For AMD] this is more chips on the table in this high-stakes poker game."
The announcement is really just a forerunner to the real excitement around AMD's upcoming mobile chipset, codenamed "Puma," which is scheduled to ship at the close of this quarter, Gray continued.
"Puma will be the first big challenger to the Intel Centrino mobile processor. Stay tuned as things will likely get more interesting between Intel and AMD, which will benefit businesses that clearly demand more competition and innovation form their component manufacturers," he concluded.