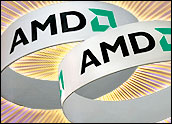 Phil Hester has exited the chief technology officer post at Advanced Micro Devices, according to reports, and there won't be a replacement.
The Sunnyvale, Calif.-based manufacturer of computer processors, which reported more than US$6 billion in revenue in 2007 and trails only Intel in that market, reportedly announced Hester's resignation last week and said it is not looking to fill the position. Hester and the company apparently parted on good terms.
AMD did not immediately return calls for comment.
Focus on Next-Generation Processors
Hester, who came to AMD after more than 20 years at IBM, primarily oversaw AMD's development of Fusion, an accelerated processing unit. Fusion, which AMD touts as its next-generation microprocessor, blends graphics technology and central processing on one chip.
Fusion is the offspring of AMD's $5.4 billion acquisition of graphics chip specialist ATI's in 2006.
AMD purchased ATI in the midst of the former's successful launch of its Opteron x-86 server processor. However, AMD has encountered tougher times of late, as Intel, which controls three-quarters of the processor market, has unveiled some new chips of its own.
Keeping Up With Intel
"I think the key issue really for AMD is good product execution," Global Crown Capital analyst David Wu told the E-Commerce Times. "The next generation of Intel products is coming soon and they need to catch up."
Hester's departure should have no impact on that game plan, he added. "They basically need the engineers to perform flawlessly, at a high pitch."
Last week, in response to falling sales, AMD unveiled cost-cutting plans to lay off more than 1,600 employees — about 10 percent of its worker roster — over the next six months.
The company is due to release its first-quarter financial report on Thursday. Reports quote the company as expecting a 15 percent decline in sales from the 2007 fourth quarter, following an 8 percent sales gain over third-quarter revenues.
Slumping Stock
AMD stock traded at US$5.99 Monday afternoon on the New York Stock Exchange. The stock bottomed out at $5.31 Jan. 9, having peaked at $16.19 in July.
"They're running very, very smoothly at Intel," Wu commented. "Being a smaller company, you really have to march to even a higher pitch than your larger competitor. You have to have a superior design." Those sorts of issues have little to do with the CTO.
Nevertheless, Hester did some great things for AMD in the time he was there, Charles King, principal analyst with Pund-IT, told the E-Commerce Times. However, the company's current travails are undeniable.
"AMD is a company with a lot of problems right now," he noted. "A lot of the product delays last year were particularly injurious to the company's ability to compete and meet its bottom line. I don't think those problems can be completely laid at his feet, but if you're looking for somebody, who better than the CTO?"
Getting Products to Market
Replacing Hester isn't essential — at least for now — King noted. "That may be an indication that they've got products in the can that they need right now, and that may indicate they want to get those products out rather than worrying about replacing him."
Efficiency and execution are more important right now, he continued. "The company over the last five years has shown time and again it can be a leader as far as technological vision goes. Their push into multi-core development has been ahead of the curve. But you've got to be able to get those products to market. It's not a matter of just having them on paper and bringing them out six months late."